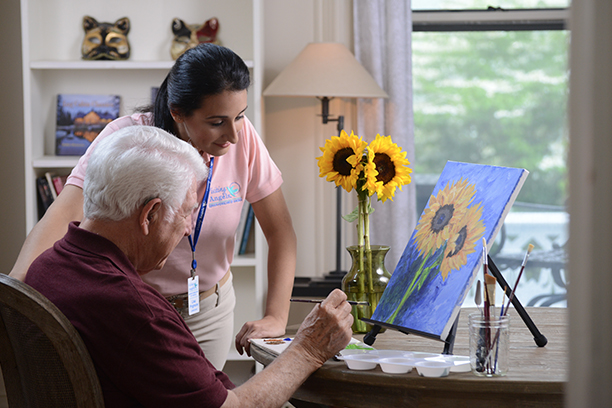 Visiting Angels Reviews Brunswick GA
"When I count my blessings, my caregiver Ruth and Visiting Angels are at the very top of my list. I am so blessed and grateful for all that my "Angel" has done to help me in so many ways. May God always bless the staff of Visiting Angels! It is a great organization that my Mother dearly loved as well
---Linda L., Brunswick, GA
---
Visiting Angels is a blessing because they have enabled my Mother to live in her home safely and with dignity
---Susan B., Saint Simons Island, GA
---
My mother, who is almost 86, has been living with me for a few months now, a big life change for both of us. Just recently the doctor determined that she is in the first stages of dementia. Being so unprepared as a caretaker, it was a blessing to learn that there was help available. I called a number on a brochure that a friend gave me and spoke with the director of the Visiting Angels. In a short, but very informative phone conversation, I knew that God had led me to these wonderful people. The director and the client services coordinator met with me and my mother the very morning and we decided together the amount of services that was immediately needed. They have provided a CNA three times a week to come into our home and help with whatever my mother needs on those days.
This person has truly been a blessing to us and we so appreciate all that she does for both of us. My mother has a new friend. And, I am feeling relieved to have the help and guidance that is needed to properly care for my mother. Feeling grateful and blessed,
Thank you Visiting Angels,
---Esther H., Brunswick, GA
---
Visiting Angels of Brunswick exemplifies Willa Cather's timeless quote, "Where there is great Love, there are always miracles...".
As one of three daughters living apart from our elderly, fiercely independent, strong willed Southern Mother; The dedication, Love and professional care being provided by Visiting Angels of Brunswick is both a Blessing and a Gift. While caring for our loved one, no task is too small and no obstacle is too high for our amazing "Dream Team".Thank You from the bottom of our Hearts,
Our Love,
---Davelyn, Deborah & Cynthia- Brunswick, GA
---
"I also want to thank you for facilitating the great care my Mom received. You are a caring and loving group and really are Angels."
---Karen S. - Simons Island, GA
---
A World of Thanks and Our Love for ALL you do, have done & continue to do for our mother.
---Cynthia L. Coldspring, Tx.
Serving Brunswick, the Golden Isles and Southeast Georgia
Visiting Angels
SOUTHEAST GEORGIA
8 St Andrews Ct
Brunswick, GA 31520
Phone: 912-342-8901
Fax: 912-275-8709