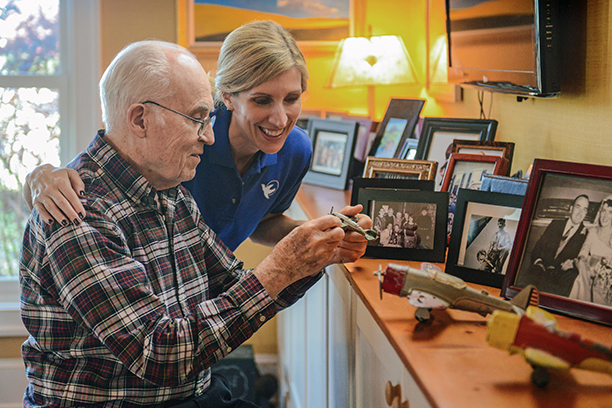 About Visiting Angels
Catherine and Gary Asher: Owner and Director: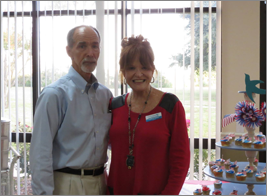 were called to open their Visiting Angels franchise as a result of their own life experiences with the need for excellent in home care for families and their loved ones. With their vast experience in the medical staffing industry, Catherine and Gary felt that Visiting Angels was a perfect fit for their life journey, along with their passion and commitment to providing the best home care possible to other families and their loved ones.
---
The Team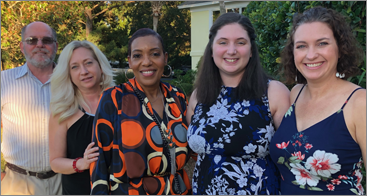 ---
Heather Barwick, Operations Manager: I joined the Visiting Angels team in 2017 as a scheduling coordinator and was promoted to Operations Manager a few years later. As Operations Manager my position is to oversee all daily aspects of the business operations in accordance with company goals and objectives. My day ranges from meeting with new clients, hiring new angels, working on marketing, continuing education/training, scheduling nurses, and so much more. Although I might have a lot of things to keep me busy, my top priority is the care of our clients. Your needs and the satisfaction of services is always number one on my to-do list. When I'm not with my Angel family, I can often be found either playing on my boat or playing in my flower bed. I'm a mom of 2 teenagers so I have a very energetic home which I adore! My contact information is as follows: hbarwick@visitingangels.com 912-342-8901 office 912-602-9191 cell
Vicki Boyett: Client Staff Services Manager: My name is Vicki Boyett, I am The Client and Staff Services Manager and I have worked with Visiting Angels for going on Five years. Although I have many important roles, such as Processing Long-term Insurance, working on Accounts Receivables, and Supervising the Schedule. My strongest professional achievement by far I feel is my Communication skills. I take pride that I was privileged to work at two of the largest companies renowned in the world for their outstanding and extensive training in communications. I grew up on Amelia Island Fl. and studied at FCCJ in many fields. I Love my family, my friends, good food, good music and traveling. It is my mission that I feel very passionate about and that is, helping others by giving them encouragement and hope when they need it most.
Lee Price, Accounting Manager: Thomas "Lee" Price proudly serves as the Accounting Manager at Visiting Angels. He graduated from Central Georgia Technical College with a degree in Accounting and began to serve in the Home Health Care field in 2016. Lee and his wife Laurie, live in Brunswick, Georgia and enjoy writing and have authored three published books. They love to spend time with their four children and eight grandchildren.
Grace Stoval, Scheduling Coordinator: My name is Grace Stovall. I am the Scheduling Coordinator here at Visiting Angels. I spend time working with clients and their families, setting up their schedule, and finding a caregiver that best suits the clients' needs. Although originally from the Atlanta area, I moved to the Brunswick area for college, and recently graduated with a bachelor's degree in health informatics from College of Coastal Georgia. I live with my partner and together we have 2 adorable cats and 3 guinea pigs. I enjoy writing short stories, reading, and traveling to new places in my spare time.
Naomi Foreman, RN: comes to Visiting Angels with 42 years of nursing experience where she has also taught and trained CNA's and LPN nursing students. She serves in the capacity of supervisor for our Angel care givers and for assessment and evaluation for our clients. Naomi is originally from Eastman, Ga where she serves as Pastor for the past 18 years. She moved to the Brunswick area 12 years ago where she met the love of her life Johnny Foreman. She has 4 adult children and 4 grandchildren. In her spare time, she enjoys traveling with her husband, shopping and she loves to write and has published 3 books already.
In addition to Naomi; Stacy Harris RN and Elizabeth Kennebrew RN both provide initial assessments and evaluations for our clients in counties outside of Glynn. Heather Ellis, LPN and Jean Freeman LPN assist the RN's in conducting supervised visits every few months. Visiting Angels of Southeast Georgia is required by state requirements to document all medical information regarding a client at the start of services as well as conducting routine visits every 60-90 days thereafter. This helps our team assess each patient individually to ensure the care and needs of the client and family are being met. We appreciate your full cooperation when any of our wonderful nurses contacts you.
Serving Brunswick, the Golden Isles and Southeast Georgia
Visiting Angels
SOUTHEAST GEORGIA
8 St Andrews Ct
Brunswick, GA 31520
Phone: 912-342-8901
Fax: 912-275-8709