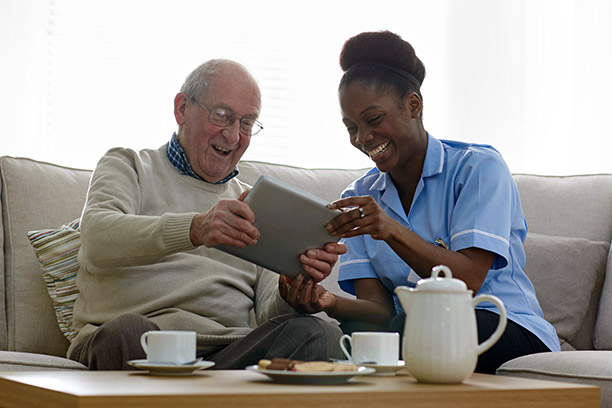 Our Alzheimer's Care in West Linn
Our Mission: To Improve the Quality of Life for Those Suffering with Alzheimer's Disease and Their Families
When a family member has Alzheimer's, it becomes important to ensure that they have support systems in place to live with dignity, comfort, and ease during trying times. For as long as possible, Alzheimer's care from Visiting Angels® Southeast Portland can help your loved one maintain the quality of life they previously enjoyed. We support families in and around West Linn who are dealing with these and other age-related challenges.
For those with Alzheimer's, a familiar environment and familiar routines can be great sources of comfort. We help seniors struggling with Alzheimer's to remain living at home, in the surroundings they know so well. Your loved one's caregiver can help them maintain the familiar routines and schedule that they've always enjoyed, so they face as little disruption or confusion in their day-to-day as possible.
Responsive Alzheimer's Care For West Linn Area Seniors
At Visiting Angels Southeast Portland, our Alzheimer's care is distinct from other types of in-home care offered in West Linn. We know that seniors with Alzheimer's or dementia often have very specific needs, and require a greater level of attentive support. We make sure your loved one's care is tailored to their current condition while anticipating future needs, too.
Our caregivers administer empathetic, supportive care that takes each client's emotional, physical, and mental well-being into consideration. For those with Alzheimer's, we can be present during moments of disorientation, confusion, or distress, alleviating anxiety and providing gentle companionship.
We also provide respite care to families and family caregivers who are looking after individuals with Alzheimer's. For non-professional caregivers, caregiver burnout is a real health risk that can put further strain on your family during this difficult time. We can provide temporary, part-time, or cooperative care options, taking the weight off you and your family.
Getting Started With Visiting Angels Southeast Portland
When you have a family member with Alzheimer's, finding time can feel impossible. We offer convenient in-home, in-person consultations at no cost to you or your family, so you can discuss options for Alzheimer's care. These consultations are available throughout the region:
West Linn
Milwaukie
Wilsonville
Lake Oswego
Gladstone
With Alzheimer's, it's likely your loved one's care needs may change quickly. At Visiting Angels Portland Southeast, we make sure our care services can adapt to keep up with your loved one's condition, so they always have support.
Ask about the Alzheimer's care we offer to West Linn area seniors. To speak to the care professionals at Visiting Angels Portland Southeast, please call today.


Serving Southeast Portland, West Linn, Milwaukie and the Surrounding Areas
Visiting Angels
SOUTHEAST PORTLAND, OR
22400 S Salamo Rd
West Linn, OR 97068
Phone: 503-297-7000
Fax: 503-297-7025