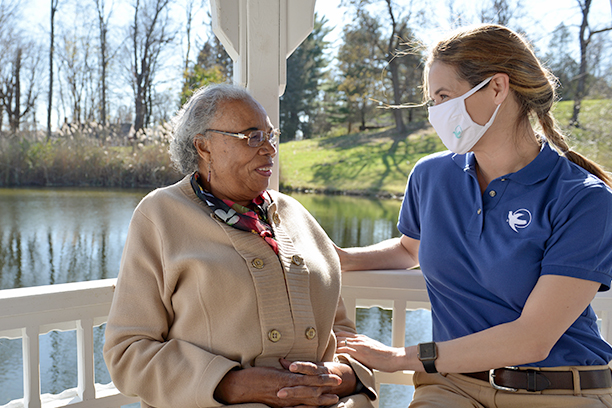 In Home Care in Milwaukie
This year has brought many unprecedented experiences, including a wave of social isolation for people of all ages. But for seniors in particular, loneliness can be particularly worrying. At Visiting Angels® Southeast Portland, our in home care professionals help many seniors in Milwaukie with the many physical and mental challenges of aging. We can help with loneliness, too.
Being separated from other people can contribute to health problems at every age. For seniors especially, these health problems can be difficult to recover from. Having frequent visits from a friendly caregiver can go a long way to alleviating these risks. Let's review.
3 Health Concerns Associated With Social Isolation
The challenges of social distancing can be wide-ranging, taking a toll on physical and mental health, too. For families in Milwaukie, here are a few potential health concerns:
An increase in catastrophizing. Those who are isolated are more prone to anxious spirals and other mental health concerns. "Catastrophizing" occurs when a person is convinced the worst-case scenario will always happen. This can make individuals especially fearful, and is just one example of the debilitating thought patterns seniors in the Milwaukie area might experience. The presence of a friendly in home care professional can help to dispel these feelings.
A decline in physical condition. When seniors have less social occasions, it can often contribute to a pronounced decrease in physical exercise. When this happens, it's very difficult for seniors to return to their previous level of activity. It can impact their overall physical condition, too. We help seniors get out of the house or stay active around the home. We can encourage walks around the neighborhood or other cherished activities.
Unhealthy habits. For anyone who is feeling withdrawn or alone, it's very easy to neglect a previous routine or system of care. For seniors, this can result in eating infrequently, sleeping poorly, or other unhealthy habits. With regularly scheduled visits from a trusted caregiver, we can restore a sense of routine and stability. We can help with cooking and other tasks, so clients can maintain healthy habits more easily.
Schedule In Home Care in Milwaukie Today
If you think your loved one may benefit from in home care services, you can set up professional support from Visiting Angels Southeast Portland right away. Our caregivers can travel to:
Milwaukie
Gladstone
West Linn
Wilsonville
Lake Oswego
And throughout the surrounding area
Help your loved one navigate the next year with professional in home care in Milwaukie. Learn more about Visiting Angels Southeast Portland by calling (503) 297-7000.
Serving Southeast Portland, West Linn, Milwaukie and the Surrounding Areas
Visiting Angels SOUTHEAST PORTLAND, OR
22400 S Salamo Rd
West Linn, OR 97068
Phone: 503-297-7000