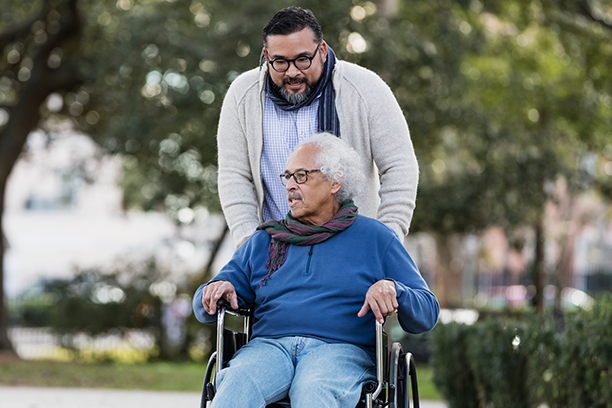 We're Proactive
Proactive Elder Homecare in St George UT
When you make the decision to find elder homecare services for your loved one in the St George UT area, you are making the decision to trust a stranger to provide care. This can be a difficult decision. You need to find an elder homecare provider you can trust to openly communicate with you about all your loved one's needs, their daily habits and routines. Open communication is especially important when you don't live close to your family member and will rely on the caregiver to be your eyes and ears. Many families rely on Visiting Angels St George UT to provide elder homecare services because of our proactive approach to care.
At Visiting Angels St George UT, we believe open lines of communication are the key to providing a superior level of elder homecare services. All the families we serve have some level of concern about follow up, communication and the sharing of information. How often will they receive updates about our elder homecare services? How will they be notified of changes in their loved one's health? What if there is a problem with their loved one? All of these concerns are normal and expected. That's why we work so closely with the families we serve to ensure they have complete knowledge of our elder homecare services.
We strive to never be an elder homecare agency that reacts to our client's needs, but instead to be an agency that is proactive, anticipating needs and addressing them before they arise. We will work closely with your family to create an elder homecare plan that addresses all your loved one's health and well-being concerns. Should there be any changes in your loved one's need, we can adjust their care plan to incorporate these new needs.
Our elder homecare providers understand the importance of open communication and will reach out to your family with any concerns. Their experience and knowledge makes it easy for them to spot areas of concern. The team in our St George UT office will also provide additional support by checking in with your loved one via phone calls and drop in visits. Our system of follow up and monitoring ensures a superior level of elder homecare is being provided. This system also provides an additional set of eyes and ears to ensure your loved one is healthy and happy.
Proactive elder homecare services bring peace of mind to many families in Kane, Iron and Washington Counties. Call our St George UT office to learn more about our elder home care services.
Serving Washington, Iron & Kane Counties including St. George & Surrounding Areas
Visiting Angels
SOUTHERN UTAH
720 S River Rd #B100
St George, UT 84790
Phone: 435-674-3434
Fax: 435-986-2255