Five Benefits of Adult Coloring for Seniors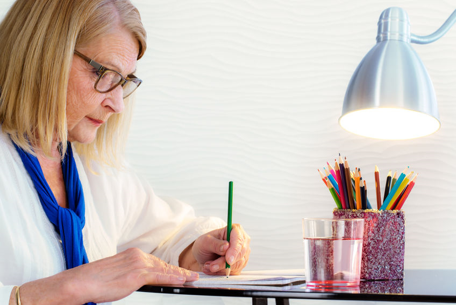 What was once considered a favorite childhood pastime has made a strong resurgence across all generations. Coloring books have been around since the 1870s, yet adult coloring only recently entered the picture in 2013. The majority of adult colorers are female millennials, those born between 1981-1996. Yet baby boomers also enjoy coloring, with 19% participating in this phenomenon, according to Nielsen BookScan data. What may seem like a childish activity actually has many benefits, especially for seniors. Here are five benefits of adult coloring for seniors that will persuade you to start coloring yourself calm today.
Engages Both Brain Hemispheres
Coloring engages both left and right cerebral hemispheres. If you think about it, there's a lot happening when you reach for certain colors and plan your composition. Coloring requires both logic and creativity in order to complete a picture. Seniors engage their logic center as they choose which pattern to color next. Seniors engage the area of the brain responsible for creativity as they select color schemes in order to create an aesthetically pleasing composition. In addition to engaging both logic and creativity, coloring also engages fine motor skills and is a great way for seniors to gain more practice with this intricate movement.
Lowers Anxiety
According to a study published by Art Therapy: Journal of the American Art Therapy Association, coloring particular geometric patterns, such as mandalas, lowers stress and anxiety levels. When engaging in such activity, the brain enters a meditative state. Your mind and body relaxes as your attention is continually fixed on the present moment. Seniors who struggle with anxiety greatly benefit from spending a few minutes each day engaging in adult coloring.
It's a Boredom Buster
Seniors that feel bored are also likely to feel lonely and depressed. Just as kids need to be engaged and stimulated, so too do seniors. In fact, boredom in seniors is detrimental to their mental health and brain function. As long as you are alive, it's important to stimulate your brain every day. Adult coloring not only engages the brain, but it also helps seniors experience a reprieve from boredom. Minutes and hours can quickly pass as they focus on completing their picture.
Sharpens Focus
It takes time, effort, and a lot of focus in order to complete a picture. Adult coloring sharpens focus and improves concentration in seniors. As mentioned above, coloring requires you to remain present and in the moment. Because you need to focus on staying in the lines and choosing appropriate colors, there's little room to focus your thoughts on tomorrow's events. As seniors incorporate more and more coloring into their daily routine, they improve focus over time and are able to practice more mindfulness even after they've moved on from coloring.
Promotes Reminiscing and Connection
Finally, adult coloring has a way of evoking precious memories for seniors. The activity itself can bring memories to mind as their brain, hands, and fingers repeat familiar movements from their childhood. Many seniors find coloring to be cathartic and enjoyable. Adult coloring brings more connection to a senior's life when they participate in an adult coloring group. Seniors who are more introverted in nature feel comfortable in adult coloring groups because everyone is focused on their individual artwork. It doesn't require much socialization and conversation happens more organically
If you're a senior who is looking for more companionship to help brighten your day, look no further than Visiting Angels Southlake. We understand the challenges many seniors face as they desire to remain at home but need some assistance in order to remain safe. We proudly offer non-medical home care services for seniors desiring a little help with everyday life. In addition to basic housekeeping, laundry, bathing and dressing services, we also over companion care for seniors who could use a friend. Our compassionate caregivers can even spend time coloring with you so that you can reap the many benefits of this engaging activity. To get started with exceptional care, please contact us today and schedule your free, in-home consultation.