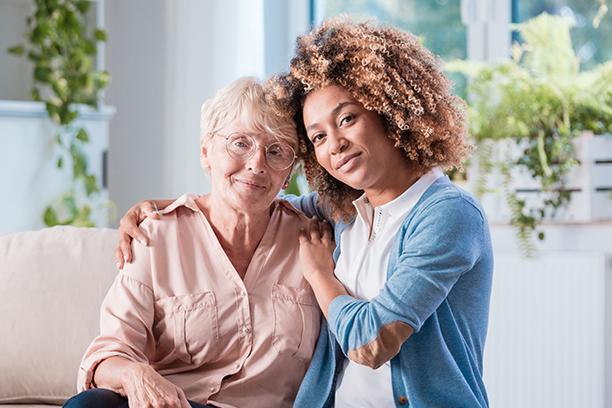 Family Services
Family Services
Visiting Angels serves
our Southlake area
with a commitment to our clients, and to their family members. After all, building a relationship with the seniors we serve means that we are building a relationship with the family that loves them. Our years of experience have given us the tools we need to communicate with appropriate family members, keeping everyone in the loop with changing conditions, plans, or small victories that happen throughout the day.
Our Family Services are the best in the Southlake area, providing family with updated communication, reliable information, and ongoing support. Whether you live only a few doors down from your aging loved one or states away, our team will make you feel connected to what is happening daily in your loved one's home.
Because Family Matters
Our dedication to family goes beyond serving our clients. In fact, our office in Southlake is owned and led by a Father-Daughter duo! We know that families are a crucial part in the stories of our senior clients. Family members often hold the key to information that will help us provide personalized care to our client, especially those clients who are living with memory loss. We love when family members can provide us with insight about their loved one's previous life stories and preferences.
While we know that families are important, we also know that families can be messy. We work to assure that we put the needs of our clients first, and that we are providing information to only appropriate family members.
Family Services Means Communication and Support
Our Family Services are anchored in open communication. Loved ones want to know if we are noticing any change in condition or concerns during our time with your aging loved one – we will tell you. Our caregivers are often the first to notice small nuances that could indicate health complications. We don't keep these small observations to ourselves. Instead, we share details of our visit and any concerns we have with family members so that any follow up care can be scheduled before a crisis occurs.
Our office is also dedicated to education. The senior care field is complicated, especially to family members just starting to learn the jargon of the field. We provide family members with reliable information about issues facing seniors and family caregivers. From Medicare to the latest research on Alzheimer's Disease, we plan ongoing education opportunities for our family members and engage with the community via our active social media pages. We strive to be the place you can turn to for information that impacts your loved one.
We are ready to begin building a relationship of trust and communication with you and your loved one.
Give us a call
to set up a consultation and take the first steps of making us a part of your extended family.
Serving Southlake and the Surrounding Areas
Visiting Angels
SOUTHLAKE, TX
630 E Southlake Blvd #135
Southlake, TX 76092
Phone: 817-684-1996
Fax: 817-224-2868