Improve Your Day with a Hearty Breakfast
It's said that breakfast is the most important meal of the day. For seniors, breakfast could be the most essential meal of the day. Most seniors tend to go to bed earlier, meaning they go longer without nutrition. While many seniors are doing themselves a favor by not consuming unhealthy snacks late at night and getting the sleep they need, it's important for seniors to start the day with a hearty breakfast.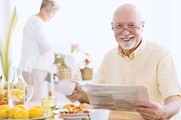 September is National Better Breakfast Month. It's the perfect opportunity for you to take a closer look at your first meal of the day. Consuming essential nutrients first thing ensures seniors' bodies function properly. For some seniors, a lack of appetite makes breakfast all the more important. Consuming breakfast can jump-start metabolism, even in seniors. Studies have also shown that adults who consume breakfast actually consume fewer calories throughout the day. Improve your entire day with a hearty breakfast. If you don't know where to start, here are a few breakfast options to help you jump start your day.
Oatmeal
Filled with fiber, oatmeal makes the perfect hearty breakfast for seniors who may struggle with constipation. Oatmeal is filling, affordable, quick to prepare, and easy to chew. Seniors can add a variety of toppings, such as fruit, honey, or cinnamon, to add more flavor and flair to their bowl. Oatmeal can also be used as a base for pancakes or waffles, instead of flour, making it a more nutritious swap. If you're not an early riser, try preparing overnight oats. Make them the night before and wake up to an instant breakfast.
Eggs
Packed with protein, eggs are another great option for seniors to add to their plates in the morning. Eggs are a great source for Vitamin D and help seniors absorb calcium, preventing osteoporosis. Eggs can help seniors feel fuller, longer, preventing them from indulging in unhealthy snacks later in the morning. The best part about eggs is the variety of ways to prepare them. Boil a half-dozen and enjoy hard-boiled eggs during the week. Stick to eggs-over-easy or scrambled, and serve with a slice of whole-grain toast.
Yogurt
Loaded with tiny probiotic bacteria, yogurt makes a wonderful case for the first meal of the day. Probiotics help seniors digest food and absorb nutrients and are important for seniors with digestive disorders. Yogurt also involves little preparation, is rather affordable, and is easy to consume. Stick to plain yogurts, instead of choosing processed yogurts that contain excessive sugar. Instead, sweeten your yogurt naturally with fruits or honey. Add granola for a crunch, or substitute yogurt for your milk in your morning bowl of cereal.
Protein Smoothies
Another great option for seniors to jump-start their day is with a protein-rich smoothie. Because everything is blended, seniors with dental issues or who have difficulty chewing can still consume key nutrients that their bodies need. Smoothies are also a great way to mask the taste of certain vegetables so that seniors can start the day with one or two servings. Create a hearty smoothie by blending fruit, yogurt, a vegetable such as spinach, and protein powder. Vary the flavors by experimenting with different fruits and vegetables.
Sweet Potato Hash
Another way to sneak in a few more servings of vegetables is to start the day with a sweet potato breakfast hash. Sweet potatoes are filled with potassium, helping seniors maintain a normal blood pressure and heart function. By replacing potatoes with sweet potatoes, seniors can enjoy a healthier version of hash browns. Make an entire meal by chopping sweet potatoes, onion, spinach, and tomatoes, and sautéing them all together in olive oil.
Avocado on Whole-Wheat Toast
Replace your jam with avocado on your morning toast and help keep mid-morning cravings at bay. Avocados are a great source for healthy monounsaturated fatty acids. They are an excellent source of potassium, support eye health, and reduce arthritic symptoms. Cut an avocado in half, slice it, then scoop it right out of the skin with a spoon. Place the slices on your whole-wheat toast. Top with an egg for more protein.
Visiting Angels Southlake believes that breakfast is the most essential meal of the day. We also believe that we are essential for enhancing the lives of seniors. We offer a variety of senior home care services to help seniors remain safe and independent in the comfort of their own home. From assistance with grooming, to help with meal planning and preparation, our compassionate caregivers are here for you. To learn more about us and how to get started, simply contact us today by calling 817-684-1996.