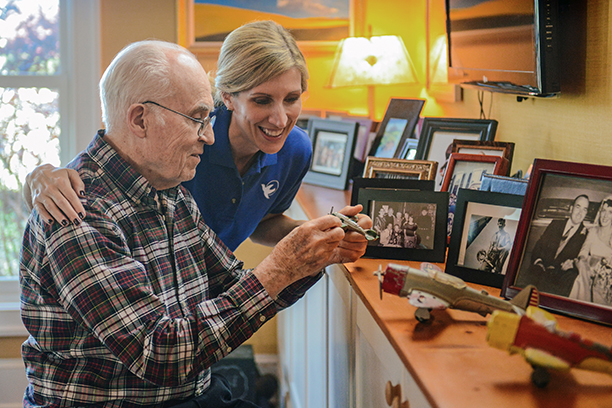 Meet Our Angels
Meet Cassie Z., Billing Angel
My name is Cassie Z. and I am the on-call billing angel at Visiting Angels of Southwest Michigan. I also assist in the training of our Angel Caregivers.
I started working as a caregiver in March 2019 and joined the office in May 2019. I love to work here because everyday is a new and unique day and a new opportunity to touch someone's life.
One time, on one of my last shifts with one of my clients, we planned to make a huge grand meal as our final meal together. It was so much fun. Thinking about her smile as she ate her favorite foods still puts a smile on my face. The memories we make with our clients is the biggest reason to come to work every day.
Whenever people ask me about my job, I always tell them it is more than just a job. When you step into the life of someone who is in a vulnerable stage of their life, and you throw your whole heart into caring for them, this job gives back so much rewarding love and compassion that makes it different from any other job out there.
---

Meet Samantha F., Client Coordinator
Hello all,

My name is Samantha F. My journey as a client coordinator at Visiting Angels of Southwest Michigan began on October 21, 2019. Before Visiting Angels I was working for Ascension Borgess Hospital in Kalamazoo, I drove by the Visiting Angels office every day to and from the hospital and always wondered what it would be like to work for them and be so close to home as I had just purchased my home in Plainwell.
One day while I was scrolling through Indeed, I came across a posting for the client coordinator position, I applied, and Ellen Kluck called me the next day to ask me for an interview. At the end of my interview Ellen asked if I would be willing to come back and meet with the owners, Denny Stults and Kara Hoorn, and I was petrified. During my follow up interview, I sat across the table from 3 people I wanted so badly to add me to their team. I fell in love with the stories they told me, how they planned to expand the business, and the opportunity for growth with the company they are offering to their staff. That next week Ellen emailed me a job offer I could not accept fast enough!
I have never worked for a business that treated me like a person that mattered and not just an employee, until I became part of this team. The owners and management care about the caseload you have; they do not continue to pile on work when they know you have a lot going on. If you are busy, they step in without hesitation to take tasks off your plate and help you in any way they can. I love this company and the team I have joined.
One thing I can share that others may not know about me is that I have a beautiful 8 month little boy that has been the light of my life since the second he was born. Everything I do is centered around ensuring he has the wonderful life he deserves.
I tell people who are interested in hiring or working for Visiting Angels that they will be well cared for. They will be joining a company that is owned and managed by people who will step in without thinking twice.In order to be successful at Visiting Angels you need to be compassionate about what you do, have goals to continue bettering yourself as well as others, and strive everyday to make an impact on someone's life even if it's in the smallest way.
Having a strong relationship with both the client and the Angel who provides them care is an aspect of my position that I love. I feel the way we treat our Angels is a direct reflection on how they treat our clients. Making the perfect match between clients and Angels is sometimes a tough task, but extremely rewarding when you can see the compassion pour out of an Angel while they interact with the client they have been paired with.
Our services are different from other providers in many ways. We strive to make everyone happy; failure is not something we accept. We are constantly looking at ways to better our team and company to better serve the community in any way that we can. Not only do we look at the positive impact we have on the people we serve, we also look at ways we can improve that positive impact.
Here at our office we like to have fun, one story that makes me smile is the sticky note "war" another client coordinator, Sarah, and I have been going back and forth on since I started here. One morning everything on my desk was covered in green sticky notes, even my chair was covered as well as the floor, but every time it happens Sarah says she doesn't know who it was. No one in the office knows who it is. In addition to the sticky notes, it often rains paper clips and rubber bands in my cubicle from an unknown source on the other side of the wall. The donation of office supplies Sarah often gifts me with, in different forms of clutter, makes me feel at home and part of the team.
Serving Kalamazoo, Plainwell, Portage and the Southwest Michigan Area
Visiting Angels
SOUTHWEST MICHIGAN
120 S Main St
Plainwell, MI 49080
Phone: 269-459-6464
5413 S Westnedge Ave #D&E
Portage MI 49002
Phone: 269-459-6464