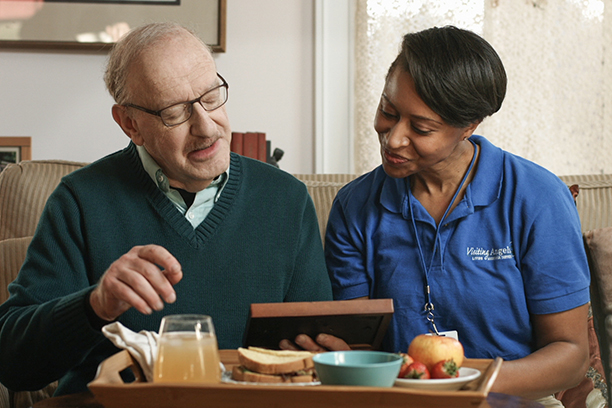 Home Care in Duncan, SC
It can be overwhelming looking through and researching different home care agencies and specialists; it is disappointing when it feels like there aren't any agencies that provide the level of personalized attention that you and your loved ones deserve.Visiting Angels of Spartanburg strives to offer out local seniors and disabled adults the services that they need. We offer everything from an at-home companion for a loved one or a caregiver for when your loved one needs extra help getting around.
Home Care Experts

We can assist your seniors with whatever they need; our caregivers have the experience needed and that you can trust.

Visiting Angels of Spartanburg provides you with the care that makes things simpler—we are always ready to assist. Choose our team today for all your senior care needs, including:
Personal Care and Hygiene
Light Housekeeping Services
Transportation Assistance
At-Home Companionship
Kitchen and Meal Preparation
Shopping and Errands
Medication Reminders and Scheduling
Home Safety Services
Home Mobility Assistance
If you or a loved one have an aging loved one, suffer from a debilitating disease, or need to know someone is looking out for whoever matters most, our Visiting Angels team is always ready to help. We have spent years providing a better quality of life for clients who need in-home care services.

Around the Clock Home Care

Our caregivers provide care around the clock!—they go the extra mile to ensure that our clients receive the care they deserve. You can schedule a care provider to be around for any duration that works best for you. We offer everything from weekly visits to someone to staying overnight.

Call us for the most convenient options in scheduled home care services. We offer scheduling choices for any care need, such as:

Hourly Visits
Sleep Over Care Service
24-Hour care
Weekly Visits
Holidays
Weekend Care
Family Events
Social Gatherings
And other scheduled services.
Visiting Angels of Spartanburg offers multiple care services and scheduling solutions—give us a call to discuss what works best for you.

Convenient Caregiving

We are a small, locally-owned company that employs caregivers from our community. We serve the immediate surrounding areas of Duncan, SC, and the surrounding neighborhoods with home care. We have a plethora of licensed healthcare assistance, and our staff is bonded and insured to provide experienced caregiving. Safety and comfort are our highest priority at Visiting Angels of Spartanburg.
It is likely that we can serve you regardless of where you or a loved one are located. If you are looking for a better home care solution, we're just a quick call away.

Peace of Mind with Visiting Angels of Spartanburg

Caring for a loved one can be stressful, which is why Visiting Angels of Spartanburg offers you and your family the solutions you are seeking. It is common for seniors to want to stay in their own homes; we encourage our clients to maintain the independence that enables them to live in their homes with the assistance of our caregivers. Our caregivers offer their clients the necessary services to maintain daily routines while enjoying their favorite activities.

Being a family caregiver is a big commitment that can take an emotional and physical toll on the family. While being the primary caregiver, family members often need a break to address their needs. Visiting Angels of Spartanburg offers respite care to families needing care for just a few hours, days, or weeks to recharge and return with a fresh perspective.

Visiting Angels Builds Relationships with Families

Our seniors and their families are not just clients to us`; they are a part of our family. We've offered our local seniors and disabled for years, working hard to establish long-lasting relationships for all involved. Your schedule is our schedule—we are always there for you!
Call us today at 864-881-0520 to set up a complimentary, no-obligation in-home assessment and learn more about our home care services.
Serving the Communities from Spartanburg to Taylors
Visiting Angels
SPARTANBURG, SC
609 E Main St
Duncan, SC 29334
Phone: 864-881-0520
Fax: 864-641-7503