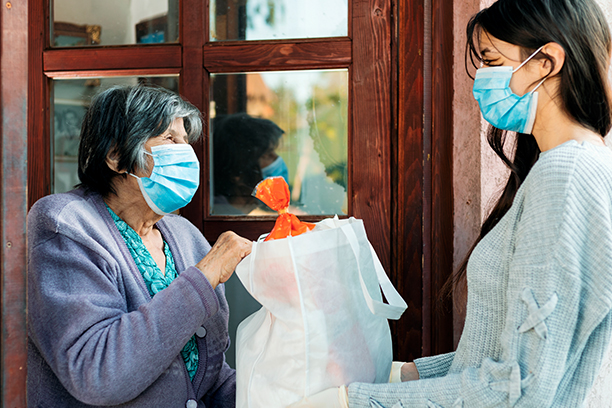 Home Care in New Canaan
At Visiting Angels® Stamford, we're proud to give seniors in the New Canaan area the chance to spend this stage of life in the home and community they choose. With our home care in New Canaan, your elderly loved ones can continue to live fully and independently as the years go by.
Home is where the heart is. That's why we're so proud to give seniors in the New Canaan area the chance to age in place. Through years of consistent, compassionate home care, we've earned the trust and gratitude of families in New Canaan, Ridgeway, Darien, Stamford, and Greenwich.
At Visiting Angels Stamford, we are proud to be a locally owned and operated care provider. We employ an exceptional team of caregivers who are available day or night.
Whatever your loved one's particular care needs, or yours as a family caregiver, our care professionals are here for you. We maintain the highest standards for our caregivers, which includes passing a criminal background check, clean driving records, and three references before being considered for employment. We also check on all our clients regularly to ensure they receive the best possible care.
About Our Home Care in New Canaan
Concerned about an older family member living on their own? Our home care in New Canaan includes several services to make your loved one's daily life simpler and safer. Whether they require occasional help with chores or 24-hour assistance, our caregivers can be there to help with the following:
Medication reminders
Bathing
Dressing
Light housekeeping
Walking and transferring
Assistance with toileting
Groceries
Errands
Family caregiver coverage
Companionship
Our Personalized Approach to Home Care in New Canaan
To fully support your loved one and anyone involved in their care, we'll tailor our home care services to your specific situation. In order to do so, our care team will guide your family through the following process:
Overview - Call our office at (203) 658-8800 to learn more about our home care services in New Canaan, inquire about our rates, and discuss your loved one's care needs in general terms.
Home Assessment - Next, we'll visit your loved one for a more in-depth assessment of their abilities, preferences, current support, and day-to-day concerns. We'll also discuss their care with your family so we can support you as well.
Creating a Care Plan - Your loved one's needs and preferences, combined with your family's input and our expertise, will help us develop a personalized care plan and schedule. Once care begins, we can adjust this plan as needed so it works for everyone.
Introductions and Ongoing Communication - Finally, we'll determine which member of our care team would be the best fit for your family's care needs. After the caregiver is introduced to the family, our care managers are in frequent communication with the family to ensure they are satisfied with care.
Our Personal Care in New Canaan
If you've noticed that your loved one's cupboards are bare, or that they're falling behind on housework, they may benefit from our personal care services. As part of this service, our caregivers can help your family member with the following:
Buying groceries
Planning and preparing fresh, healthy meals
Bathing, dressing, and using the restroom
Basic chores including laundry
Errands
Medication reminders
Walking
Transportation
What is Respite Care?
Burnout is an ever-present concern for family caregivers, especially as the demands of this role continue to grow. If you're devoting all your time and energy to your loved one's needs, you can end up severely neglecting your own.
We offer respite care as part of our home care in New Canaan because you need and deserve to take care of yourself as well. Our caregivers can help out on an ongoing basis, or cover you for a few days so you can rest.
End of Life Care and Palliative Care
Our non-medical End of Life Care and Palliative Care can provide comfort and peace at a very fraught period for families. Non-medical End of Life Care is specifically available for seniors and other individuals who are nearing the end of life transition due to illness or age. As part of this service, our caregivers can ease each client's discomfort and create a warm, soothing environment where families can share their remaining moments.
Non-Medical palliative care, by contrast, is an option for anyone with a significant medical issue, whatever their life expectancy. Our care professionals can offer physical, emotional, spiritual, and social support to help clients and their families embrace a new perspective.
Ready-Set-Go Home Transitional Care Program
For seniors who have returned home from a hospital stay, the first 30 days pose the highest risk of readmission. We can support your loved one during this period, starting at the hospital and continuing through their recovery at home. We can help your family craft a transitional care plan, check in with your loved one's healthcare team, and provide day-to-day personal care support.
Safe & Steady Fall Prevention Program
Falls pose a serious health risk for seniors, but there are steps you can take to help protect your relative. Our Safe & Steady Fall Prevention Program includes risk assessment, walking assistance, and personalized recommendations to make your loved one's home less perilous.
Companion Care and Social Care
If your loved one lives a more isolated life than they're used to, they may be at risk for loneliness, depression, and poorer health overall. For the times when you can't visit as often as you'd like, our caregivers can be there to lift your loved one's spirits, engage their minds, and provide companionship. We can also help less tech-savvy seniors grow more comfortable with social media and other online tools.
Get Started with Home Care in New Canaan Today
Let us help your loved one live more comfortably and capably each day. Call Visiting Angels Stamford at (203) 658-8800 to book a consultation for our home care in New Canaan
Serving Greenwich, Stamford, Darien and New Canaan
Visiting Angels
STAMFORD, CT
1266 East Main St Suite 700 R
Stamford, CT 06902
Phone: 203-658-8800
Fax: 888-589-3686