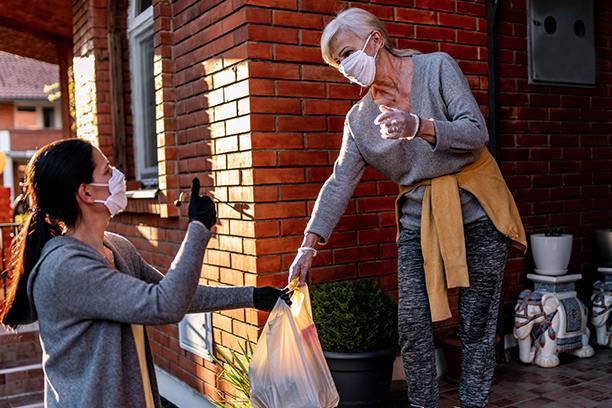 Senior Home Services in Ridgeway
Does your loved one have a preference for staying at home as they grow older? Most seniors want to avoid moving away from home if possible. Senior home services from Visiting Angels® Stamford can help make this a reality for those living in the Ridgeway area. Our companion agency offers flexible and customized services that address a wide range of needs and makes aging in place something that is safe and doable for seniors in all kinds of situations.
With our senior home services, your loved one can embrace a higher quality of life in the place they've long called home. They can also continue to live in the community they've grown to love and maintain their daily rhythm. In other words, they won't have to change anything about the life they've created for themselves in order to receive services. In fact, we'll provide assistance that is tailored to their unique circumstances and that can be adjusted when they encounter unexpected aspects of the aging process.
We proudly offer high-quality senior home services for those living in:
Ridgeway
And the surrounding areas
The members of our homemaker team have all been through a background check and intensive screening process to ensure they are worthy of the trust we place in them. Moreover, we make companion-recipient matches based on essential criteria that include personality compatibility, helping facilitate a comfortable experience for your family.
About Our Senior Home Services in Ridgeway
We can offer a broad selection of senior home services in Ridgeway and beyond. Whether your grandmother needs mobility support on a daily basis, your elderly parent is dealing with cognitive decline, or your great uncle could benefit from weekly visits from a compassionate companion, our services make a positive impact on their daily lives.
The assistance offered by our team often takes the form of the following:
Help with planning out and preparing meals
Grocery shopping and assistance with errands
Support with daily dressing and grooming tasks
Dignified assistance with bathing and toileting
Providing transport and accompanying seniors to appointments
Offering fun opportunities for social interaction and conversation
Covering for unpaid family caregivers to help them avoid burnout
Our Approach to Setting Up Senior Home Services in Ridgeway
There are a couple of steps involved in getting to know your loved one so that we can implement services specifically tailored to their life and their preferences. You can rely on our coordinators to take the time to build a relationship with your family and form a plan that covers your concerns and offers a lasting solution.
Here's how we go about accomplishing this mission:
We start with an introductory phone call. We can provide general information about our services when you first reach out to our office. Then, we'll suggest scheduling an at-home consultation for free so that you can receive recommendations personalized to your loved one's situation.
We offer free consultations. Your loved one's consultation will include an in-depth conversation covering their needs, their day-to-day routines, and their goals for living at home. We'll also provide plenty of time for you to ask questions and ensure that your concerns are addressed before moving on to the next step.
We create customized plans. In the context of your free consultation, we can start developing a service plan and schedule of companion visits for your loved one. Our companions are available on a 24/7 basis, 365 days of the year. We make certain the plans we develop for our clients are as flexible as possible to deal with unexpected eventualities.
We match seniors with the right companion. The final step before implementing your loved one's plan will be to set them up with a talented companion who can assist them in all the ways in which they desire support at home.
Types of Senior Home Services Available in Ridgeway
Did you know that seniors in the Ridgeway area can benefit from a vast range of senior home services through our local agency? Examples include the following:
Personal Assistance
Essential personal services cover needs for support with everyday activities ranging from showering to walking. These types of services include physical assistance and are thus particularly helpful for older individuals who feel limited by a mobility issue or chronic condition.
Companionship
When your loved one does not require physical support but does need basic assistance at home, having a companion is an excellent choice. This service offers lots of social interaction for seniors who might otherwise feel lonely, as well as help with tasks like cooking meals, managing medication schedules, and going on outings.
Safe & Steady Fall Prevention
Fall prevention can play a crucial role in helping older adults avoid the consequences of a fall. Because falls often lead to a loss of independence in this age group, taking proactive steps to avoid such an experience is key. This program offers well-rounded support in the area of fall prevention through a personalized risk assessment and tips for fall-proofing the home environment.
Transitional Assistance After a Hospital Stay
We proudly offer a transitional assistance program called Ready, Set, Go Home. This program makes the process of being discharged from the hospital a less risky experience for seniors. The weeks following a hospital stay can be a particularly sensitive time for elderly adults, and transitional assistance can help them successfully manage the transition back to their home life while lowering their chances of a hospital readmission.
Respite Assistance
The senior home services we offer also include the needs of family caregivers. When you feel constantly stressed and overwhelmed because of your duties to care for your loved one, you can enjoy a bit of relief and have the benefit of time off through respite assistance.
Get Started with Senior Home Services in Ridgeway Today
Getting started with senior home services is simple with our local agency! Call (203) 658-8800 today if you'd like to set up a consultation free of charge in the Ridgeway area.
Serving Greenwich, Stamford, Darien and New Canaan
Visiting Angels
STAMFORD, CT
1266 East Main St Suite 700 R
Stamford, CT 06902
Phone: 203-658-8800
Fax: 888-589-3686