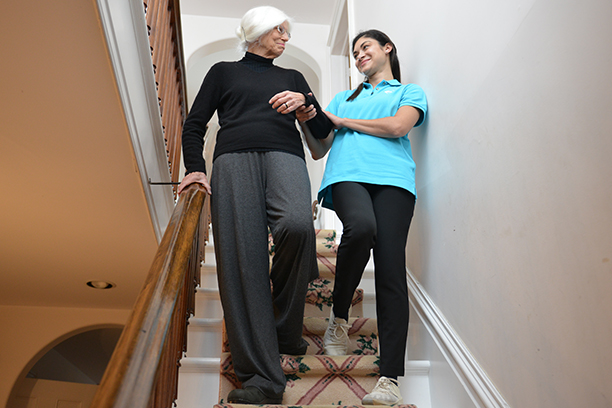 Senior Care in Norman
Does your loved one need help at home? Most seniors prefer to age in place if they can. We can help with our flexible, personalized senior care in Norman.
At Visiting Angels® Southwest Oklahoma City, we are proud to have served the wider Norman area for years, helping older adults in Norman, Oklahoma City, Tuttle, Moore, Blanchard, and Mustang enjoy a higher quality of life at home.
With our senior care, your elderly relatives can continue to live among the family, friends, and greater Norman community they hold dear. Our caregivers are gracious and compassionate individuals who are devoted to each client's long-term well-being. Every member of our team has also gone through our in-depth vetting process, which includes reference follow-ups and a criminal background check.
About Our Senior Care Services in Norman
We offer a wide selection of essential senior care services in the Norman area. Whether your relative needs walking support on a daily basis, or would enjoy weekly visits with a friendly care professional, our care team can accommodate their needs. The assistance we offer local seniors and their families include the following:
Meal planning and preparation
Grocery and errand-running help
Bathing and dressing support
Medication reminders
Transport for appointments
Transferring help
Walking aid
Enjoyable companionship
Family caregiver coverage
Our Approach to Senior Care in Norman
In order to provide the essential care services your loved one needs to thrive, we'll take the time to learn about their unique needs and care scenario. To get started, our care team will take you through the following steps prior to care:
An intro call — When you call Visiting Angels Southwest Oklahoma City, we can give you more information about our essential care services, including our hourly rates. We can also talk in general terms about your loved one's care needs. An in-depth consultation — We'll visit your loved one for a no-cost consultation where we can assess their condition and determine the level of care they require. Family members can also attend this consultation to ask questions, bring up any concerns, and give us a clearer sense of their loved one's support network.
Plan building — We'll use your loved one's consultation as the basis for a custom care plan tailored to them. We provide senior care 24/7, 365 days a year, so we can accommodate any care schedule too.
Choosing the right caregiver — We recommend one of our exceptional caregivers based on the kind of care your loved one needs, their personality, and other factors. Before your relative's care begins, we can set up a meeting for your approval.
Essential Personal Care Services
In most cases, our clients or their family members reach out to us for help with day-to-day activities. Our essential personal care services cover a wide range of tasks to make our clients' lives easier, safer, and more comfortable.
The activities our caregivers can assist with include:
Getting groceries
Providing medication reminders
Arranging rides to appointments
Running various errands
Doing some basic household chores
Providing support while walking or transferring
Creating meal plans and preparing meals
Helping with bathing and getting dressed
Alzheimer's Care and Dementia Care Services
Although we are not a home health agency, we offer many similar services for seniors with medical needs. Through our Alzheimer's care and dementia care services, we address specific symptoms of cognitive decline by providing the following:
Wandering prevention support
Medication reminders
Diet monitoring
Meal planning, prep, and serving
Friendly, stabilizing companionship
Condition updates
Companion Care and Social Care Services
To promote the emotional well-being of the seniors in our care, we offer enjoyable companionship and support with various digital tools. If your loved one doesn't leave home often or has trouble using video chat and other tools to keep in touch, our caregivers can help them reconnect with their interests, their friends and family, and the outside world in general.
Ready-Set-Go Home Transitional Care
Our senior care includes transitional care to reduce hospital readmission rates. Our care professionals can support your loved one as they transition home from the hospital. We can prepare your family to ask any necessary questions about discharge and follow-up care, visit your loved one in the hospital and consult with their care team, and offer any necessary assistance after they return home.
Safe & Steady Fall Prevention
Concerned about your loved one's fall risk at home? Falls account for more serious injuries among seniors than any other cause. We can help reduce your loved one's fall risk by identifying their risk factors and suggesting small improvement to their home such as additional lighting and clutter reduction. Your loved one's care plan can also include walking support.
Palliative Care
We offer palliative care to provide comfort, relief, and hope for clients with severe or terminal health conditions. This holistic service is open to clients of all ages, no matter where they are in their treatment. Our caregivers focus on emotional, spiritual, physical, and social well-being as a part of this well-rounded care option.
End of Life Care
We also provide end of life care for older adults entering the end of life transition. Our warm and calming care professionals can help your relative feel more at ease physically and emotionally. They can also assist your family with day-to-day logistics, so you can focus on the moment.
Get Started with Senior Care in Norman Today
If you've been caring for an older loved one in the Norman area, we know how hard it can be to bring in outside senior care — no matter how overwhelmed you are. At Visiting Southwest Oklahoma City Angels, we're here to address your concerns, answer your questions, and make this process as smooth as possible.
To find out all about our senior care in Norman or to book a no-cost consultation with our team, call Visiting Angels Southwest Oklahoma City today at (405) 703-7676.
Serving Southwest Oklahoma City, Moore, Norman, Mustang, Union City, Blanchard, Tuttle and Newcastle
Visiting Angels
SOUTHWEST OKLAHOMA CITY
11705 S Western Ave
Oklahoma City, OK 73170
Phone: 405-703-7676