Compassionate Elderly Care in Lawrence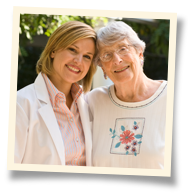 As your loved ones get older, providing them with a high level of continuity may be an increasing priority. For seniors struggling with age-related difficulties, sudden changes in routine, or environment can be extremely disruptive. With elderly care services from Visiting Angels® Topeka, we make it easier for seniors in Lawrence to stay in familiar surroundings, enjoy familiar habits, and otherwise experience a higher degree of continuity on a daily basis.
Frequent caregiver visits help your loved one remain in the comfort of home even when independent living becomes a bigger challenge. We select caregivers based on temperament, fit, and even your family's input. Our caregivers are compassionate, considerate, and highly detail-oriented. We know that it can be daunting to bring a new person into your loved one's life, and we make sure the caregiver that's chosen is someone you can trust.
Choosing Elderly Care in Lawrence
At Visiting Angels Topeka, we offer comprehensive elderly care options in Lawrence that can be completely personalized based on needs, preferences, frequency of care, and budget. These care decisions are made with you, your loved one, and any other family members who may need to be part of these conversations.
We make it easy to talk through your options with consultations conducted by our care team in your loved one's home and at your convenience. If there are out-of-town family members who need to weigh in, we can keep them connected by email or phone.
Once a care plan is finalized, it's not set in stone. Instead, it's always possible for your family to update, add on, or otherwise adjust the plan that's been created. This flexible approach means we can always ensure we're supplying care that meets all your loved one's complex and changing needs.
Visiting Angels Topeka Has Local Care Professionals You Can Always Count On
Visiting Angels Topeka is completely run by local care professionals. We know that having a local team on the ground means we can be so much more adaptive to the needs and considerations of our clients.
Giving back to our community is a top priority for our home care agency. With our team of trusted elderly care specialists, we're proud to provide reliable and ongoing support to families around Shawnee and Douglas Counties including:
Lawrence
Topeka
Silver Lake
Tecumseh
Auburn
Getting started with an initial elderly care consultation is easy. Call Visiting Angels Topeka to schedule your consultation in Lawrence or the surrounding area.