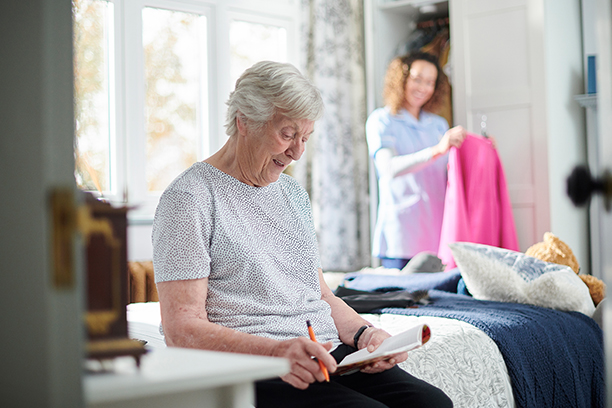 Tyler's Trusted Partner in Elder Care Assistance
---
Daily life can be difficult to juggle and throwing the additional responsibilities of organizing elder care assistance for your loved one can seem impossible to handle. At Visiting Angels
®
Tyler, we are committed to making the process of finding elder care assistance as smooth as possible, not only for them, but for you as well.
Our care coordinators are well-versed in helping families craft personalized care plans for their loved ones, and we're here for you from the initial pre-care consultation throughout the duration of care. This commitment to providing compassionate, engaged elder care assistance is a big part of what makes us a trusted choice for families in Tyler, Mineola, Jacksonville, Lindale, Whitehouse, Bullard, Longview, and the surrounding areas.
Visiting Angels Tyler: Flexible Elder Care Assistance
Our team believes that elder care assistance is at its best when it can accommodate the many changes that life throws at us. Late-day releases from hospitals, short-notice transitions from assisted living facilities, last-minute changes to your loved one's care plan - all these things happen. At Visiting Angels Tyler, we are well-versed in accommodating these changes.
Simply give us a call to request any changes and we'll accommodate this request as quickly as possible: 48 hours is sufficient for most requests, and 24 hours is enough notice to accommodate some emergency situations. This flexibility allows us to provide attentive, uninterrupted care to make sure that your loved one is getting the assistance they need whenever they need it.
Affordable Elder Care Assistance at Visiting Angels Tyler
One of the biggest concerns when arranging care for your loved one is cost. Our caregivers are assigned on an hourly basis, so your schedule is completely in your hands when crafting your loved one's personalized care plan. Maybe your loved one only needs help with errands one day a week, or perhaps they need more involved care for several days a week. In either of these situations, as well as anything in between, you can count on our team to deliver the kind and compassionate care that has become synonymous with the Visiting Angels Tyler name.
Call Visiting Angels Tyler today to schedule your obligation-free consultation and learn more about the comprehensive services that have made us a trusted source for elder care assistance in Tyler, Mineola, Jacksonville, Lindale, Whitehouse, Bullard and Longview, TX, and surrounding areas.
Serving Tyler, Longview and the Surrounding Areas
Visiting Angels
TYLER, TX
419 W. Houston St
Tyler, TX 75702
Phone: 903-581-5122
Fax: 903-705-6376