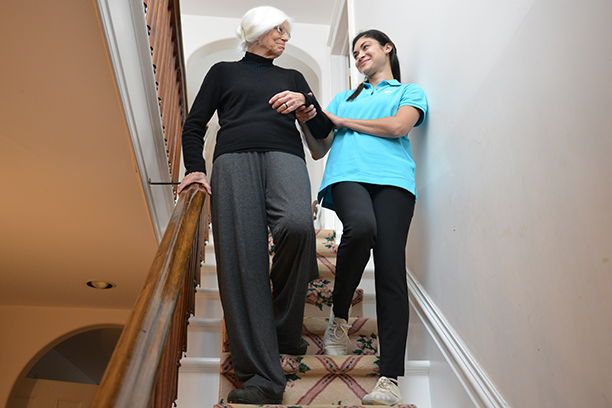 Elderly Companion Care
Elderly Home Care in Inglewood
Is your loved one having trouble keeping up with chores around the house? Is your mom or dad skipping meals because it's just too much trouble to cook? Are the bills pilling up because they are ignoring the mail? When everyday tasks become too much it's common for seniors to let things go by the way side instead of asking for help. If your loved one is demonstrating these types of behaviors, please call Visiting Angels View Park for elderly home care services in the Inglewood area.
Our elderly home care services are designed to provide the help many seniors need to live safely at home. Independent living is extremely important to seniors. Most don't want to move to a senior care or assisted living facility. They want to remain at home. While you'd like to be able to help them, your own life and responsibilities can make it difficult to be available every time they need you. Elderly home care services fill the gaps when your loved one needs care.
When you choose our Inglewood-area agency for elderly home care services, your loved one will be matched with a caregiver who is kind, friendly and outgoing. We encourage every family we work with to be a part of the caregiver selection process. You and your loved one will be able to meet several caregivers from our team. We encourage you to get to know them and ask questions about their experience and approach to care before choosing the caregiver you like best.
Our caregivers can help with a wide range of tasks. Our elderly home care assistance commonly provides help with laundry, light housekeeping, meal planning and/or preparation. Our caregivers can also help with personal care concerns including bathing, dressing, grooming, and hygiene. Our caregivers are all skilled professionals with previous experience in the elderly home care field. They have the knowledge to provide compassionate and respectful care.
So that we can be sure your loved one is receiving the help they need, we'll prepare a personalized elderly home care plan. The care plan will detail the services the caregiver will help with and will set a schedule of home visits so your loved one knows exactly when to expect the caregiver.
If your loved one needs a friendly and helping hand around the house, please call our Inglewood-area agency for elderly home care services.
Serving from View Park to El Segundo, CA
Visiting Angels
VIEW PARK, CA
6505 Sepulveda Blvd
Los Angeles, CA 90045
Phone: 323-291-0100
Fax: 323-924-1175
HCO #194700248