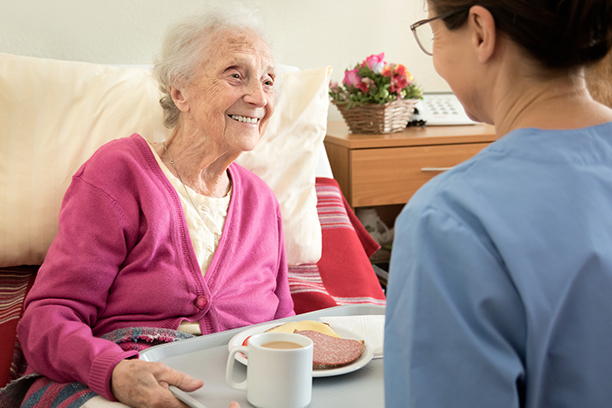 Why Visiting Angels
Why Elderly Care from Visiting Angels View Park
The ability to live at home as you age is important to your sense of well-being. At Visiting Angels View Park, we find that our clients in the Inglewood area want to live at home for as long as possible. Our elderly care services make it possible for seniors and the disabled to continue living in their comfortable homes. With elderly care services from Visiting Angels View Park, your loved one can receive assistance with Activities of Daily Living (ADL), joyful companionship, and care for a variety of health conditions.
It's Your Schedule, Keep It!
Many seniors worry that an at home caregiver will put them on a schedule; telling them when to eat, sleep or bathe. With Visiting Angels View Park providing elderly care services, your loved one will continue to move through their day on the schedule that brings them comfort. As your caregiver, our job is to learn your schedule and routine. We provide the assistance your loved one needs to get the most out of their day.
Trustworthy Elderly Care Services
At Visiting Angels View Park, we understand how difficult it can be to welcome a caregiver into the home. You need to be able to trust the caregiver and the elderly care agency you choose. That's why Visiting Angels View Park is a bonded, insured and certified elderly care agency serving families throughout the Inglewood area. We carry general, professional and workman's compensation insurance. All our caregivers are employed by our elderly care agency. Visiting Angels View Park has been certified by the California Association for Health Services at Home.
Continuous Monitoring for Quality Care
Our elderly care agency is focused on providing quality care at all times. Our system of continuous monitoring enables us to provide the best possible care. A member of the Visiting Angels View Park team will check in with your loved one over the phone and/or by visiting him or her at home. We will make sure they are happy with the care we are providing and the caregiver they work with.
Customized Elderly Care Plans
So that your loved one has the best possible care, Visiting Angels View Park will create a customized elderly care plan. Each of our clients receives an elderly care plan written to address their individual health and wellness concerns. The caregiver will use the elderly care plan as a guide for meeting your loved one's needs. Our elderly care plans can be updated at any time to ensure all your loved one's needs are met.
Call our office today to find out why families across the Inglewood, Los Angeles and View Park areas choose Visiting Angels View Park.
Serving from View Park to El Segundo, CA
Visiting Angels
VIEW PARK, CA
6505 Sepulveda Blvd
Los Angeles, CA 90045
Phone: 323-291-0100
Fax: 323-924-1175
HCO #194700248