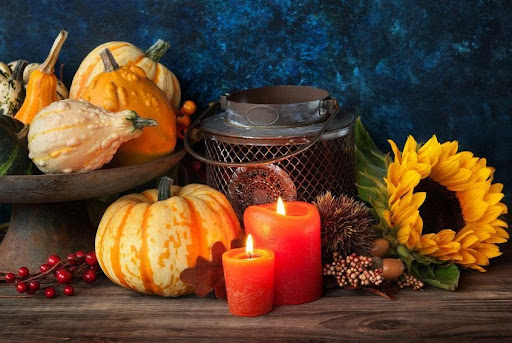 Senior-Friendly Thanksgiving Activities
The holidays are all about spending time with your friends and family. And the best way to include all members of your family is to find senior-friendly activities to boost the holiday spirit.
Cook a Holiday Meal
What better way to get the family together on Thanksgiving than to cook a homemade meal together? Instead of having one or two people slaving over the holiday meal, bring the whole family involved, from preparing appetizers to baking desserts. You can split the family up and assign each person to a dish or break each recipe into sections and assign each person a section of the recipe.
You can even turn your holiday meal preparation into a competition. Write all of the dishes on a piece of paper and place paper into a hat or jar. Have each person pick a piece of paper, and whatever is written is what they're responsible for making. Set a time limit, and see how quickly each person can cook their dish. Once everything is cooked, you can assign a few family members to be judges, and they can rate each dish on presentation and taste.
Get Crafty with Thanksgiving Decorations
Tap into your artistic side with some holiday crafts. One quick and easy raft is a toilet paper roll turkey. Start by taking a toilet paper or paper towel roll and cutting it into 2-inch cylinders. This will be the body of the turkey. On one side of the cylinder, draw the turkey's face. You can use markers to draw your design or cut out and glue pieces of construction paper for the eyes and beak. The last step is to give the turkey some feathers. Cut out long oval in different color construction paper and glue the feathers to the back of the toilet paper roll.
Play a Thanksgiving-themed Game
Games are a great way to get the family together, so why not try a Thanksgiving-themed game. You can try Thanksgiving Bingo, where everyone has to complete tasks to earn their squares throughout the day, such as eating a piece of pie or making a paper turkey. Or play a game of Thanksgiving Charades when all the charades are Thanksgiving-related, such as carving a turkey or baking a pie.
Enjoy Time Outside the House
If you're itching to get out of the house, there are plenty of great activities to explore in Wayzata and the surrounding area. You can kick off the holiday season with the Light Up the Lake Festival, complete with reindeer, letters to Santa, hot chocolate, holiday music, and magic wagon rides on Lake Street. You can also visit Colonial Square to visit Santa and his reindeer this holiday season.
If you and your family enjoy physical activities, you can sign up for a holiday run-walk. You can raise money for No Hunger November with the 2021 Walk to End Hunger or head to Minneapolis for the Drumstick Dash. If you don't want to run in these events, you can still raise money and show up to support the runners while enjoying warm cider or hot chocolate from the sidelines.
How Visiting Angels Can Help
If you or an aging loved one needs assistance this holiday season, the team at Visiting Angels Wayzata, Minnesota, can help. Our caregivers provide in-home services to help seniors age-in-place, such as light housekeeping, personal grooming, meal preparations, medication reminders, and mobility assistance. Our Wayzata office serves those in Minneapolis and the west and southwest communities. If you'd like to learn more about our services, you can complete this online form or call us at 952.935.0789.