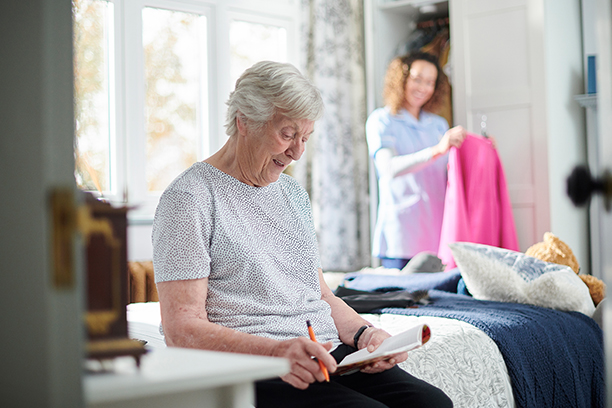 Questions Concerning Homecare
Q: Are you a licensed home care agency?
A: There are two general types of home care providers; medical and non-medical.
Medical home care

is in large part Medicare based and provides care for very specific and serious medical requirements such as wound care, injections, IV therapy and other related needs.

Non-medical home

care agencies, such as Visiting Angels, address those needs typically not provided by medical agencies. Non-medical agencies provide the services that allow care recipients to remain independent in the safety and security of their own home.
The state of Indiana, through the Department of Health, requires both types of agencies be licensed. Obtaining a license is not an easy endeavor due to the extensive documentation required to comply with complex State regulations.
Q: Are you insured and bonded?
A: You bet; we stand behind all those services we and our caregivers provide. With Visiting Angels your safety and security is our primary concern. We carry the required general liability insurance mandated by the State.
Visiting Angels provides bonding insurance for all our caregivers. Bonding is a type of insurance that provides coverage to compensate victims of theft as the result of individual dishonesty.
Q: How does Visiting Angels screen its Caregivers?
A: This is an excellent question and one of the many reasons why Visiting Angels stands apart from other agencies.
We only hire caregivers with verifiable long-term experience. Before we place a caregiver in our registry, they must pass our extensive screening process that includes the following elements:
Three separate interviews, each progressively exploring deeper into the candidates experience and suitability as a Visiting Angel.
We check references and require at least three 'positive' responses.
We administer a drug test that checks for 5 types of illegal drugs; we also inform our candidates we conduct 2 random drug tests per year.
We contract with an independent agency to conduct a comprehensive criminal background checks that include: Local, state, national and federal criminal checks, Credit checks, DMV checks , Searches in state and national registries for the elder, sexual and methamphetamine abuse
They must complete a Competency Lab and demonstrate proficiency in: Hand Washing , Transfer, Bathing , Feeding, Nail Care, Hair Care, Shaving , Medication Reminders, Dressing, Exercise (non-passive), Positioning, Catheter Care (empty bag only), Skin Care, Ambulation Assistance, Mouth Care & Making an Occupied Bed
We take great pride in the fact we only hire the best-of-the-best; actually, we only hire 5% of the candidates who apply for jobs as a Visiting Angel. Sure, our hiring process is strict and takes extra time, effort and expense to complete, but it's necessary to provide you with the peace-of-mind you deserve. After all, we're searching for Angels! And don't forget, once you're ready to move forward with service, you get to select your caregiver!
Q: Do you have independent endorsements?
A: Yes, we are active members in good standing with:
The Greencastle City Chamber of Commerce
The Rotary Service Club
The Family Advantage Program
Most importantly we already serve many satisfied clients and families.
Q: How do your rates compare with other agencies?
A: We fully understand service rates are a big consideration in your decision. Reviewing agency rates can be confusing and, in some cases, they can be outright deceptive. Before committing to service, you should verify that the rate you're quoted is all inclusive and free of any hidden charges or 'add on' fees designed to drive up the cost of care.
In the normal course of our business, we continuously review our competitors' rate structures. We established our rates to be extremely competitive and all inclusive. We provide you our Rate Sheet prior to service; you'll see there are no trip charges, administrative fees, extra service charges or sign-up fees to worry about.
Our goal is to make our rate structure and subsequent invoices easy to read and understand. We consider this aspect of our business part of the peace-of-mind you should expect from a home care agency.
Q: How do we get started? What's the next step?
A: After you do your homework, we're sure you'll agree Visiting Angels is the right choice for you and your loved one. The combination of experience, high standards, personalized service and competitive pricing make us the obvious choice for home care.
Give us a call to discuss care options and schedule a free in-home assessment. After we fully understand the level of care required, we develop a care plan to meet all your needs. We then search our registry for the perfect caregiver, and schedule a time so you can meet with them. Once you select your personal caregiver, we schedule a start date for service; it's that simple.
Now you understand why Visiting Angels is . . . America's Choice in Homecare
Serving West Central Indiana from Plainfield to Terre Haute, IN
Visiting Angels
WEST CENTRAL INDIANA
3197 US Highway 231 S
Greencastle, IN 46135
Phone: 765-848-1411
Fax: 765-848-1046