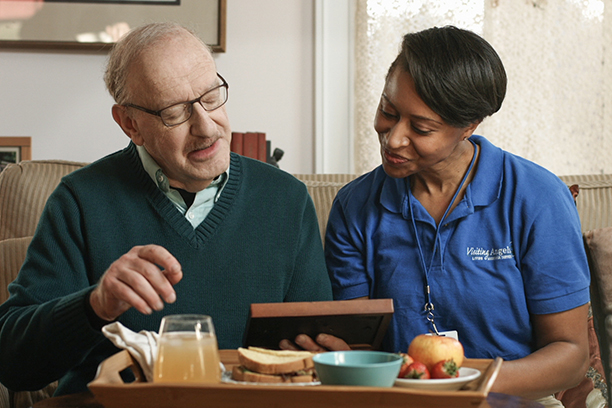 Long-Term Care for Seniors in Westerville, OH, and Nearby Areas
When seniors need assistance with common household chores like cooking or cleaning, they often turn to relatives for support. However, substantial age-related issues or a chronic ailment may make it more difficult to care for an aging family member over time. It may be time to look into professional home care services if your loved one needs more frequent or lengthier support than you are able to provide.
Long-term care services from Visiting Angels of Westerville can make it possible for your loved one to age in place at home for as long as they need or want to. Our company focuses on giving seniors living in Westerville, Powell, Gahanna, and Worthington, as well as the neighboring areas in Northeast Franklin and Delaware Counties, compassionate and tailored care in the comfort of their own homes.
Why Choose Long-Term Care from Visiting Angels of Westerville?
For elderly people in Northeast Franklin and Delaware Counties who need around-the-clock attention and care, Visiting Angels of Westerville offers a comprehensive long-term care program. During visits, our caregivers may help with Activities of Daily Living like bathing, dressing, and preparing meals, as well as offer conversation and check in on your loved one to make sure they are following their doctor's orders for managing symptoms of a chronic condition.
Long-term care services from Visiting Angels of Westerville may be tailored to the requirements of both you and your loved one. Whether it's the middle of the night on a workday or the middle of the summer on a weekend, our caregivers are always here to help.
We offer:
Help with running errands
Mobility assistance
And more
How Seniors Benefit from Long-Term Home Care
If an older loved one has exhibited symptoms of having difficulty maintaining their independence, you may have considered putting them in an assisted living facility or nursing home. The relocation of a loved one to one of these institutions, despite the availability of care around the clock, may induce anxiety. If your loved one has a neurological disorder like dementia, which makes it hard for them to adjust to new environments, this is very important to remember.
Thanks to Visiting Angels of Westerville's long-term care services, your elderly family member does not have to leave home to get assistance and support. We can tailor a care plan to your family member's specific requirements and help you choose a caregiver who is a good fit for them. With in-home care, your loved one may continue to live in his or her own home while getting the assistance they need to complete everyday activities.
Long-Term Care Insurance
The high expense of long-term care is a potential source of stress for families in the Westerville area. But long-term care insurance, which pays for care provided in the home over an extended period of time, may ease the financial burden on you and your loved ones. They may have a policy that will make the cost of in-home care much more bearable today if your loved one is in their forties or fifties. You can count on the experts at Visiting Angels of Westerville to help you figure out whether or not your family member is eligible for long-term care insurance.
Whether or whether your loved one has long-term care insurance, we will do all in our power to ensure that they get the best care possible while also keeping costs to a minimum. The services provided to your loved one will be individualized to fit their specific requirements, which will ultimately result in cost savings for you. We at Visiting Angels believe that every family, regardless of financial standing, should have access to the greatest senior care for their loved one.
Call our Westerville, OH, office at (614) 392-2820 to schedule an in-home consultation today!
Serving Columbus, Westerville, Powell, Gahanna, Worthington, New Albany, and Surrounding Areas
Visiting Angels
WESTERVILLE, OH
100 Dorchester Sq, #101
Westerville, OH 43081
Phone: 614-392-2820