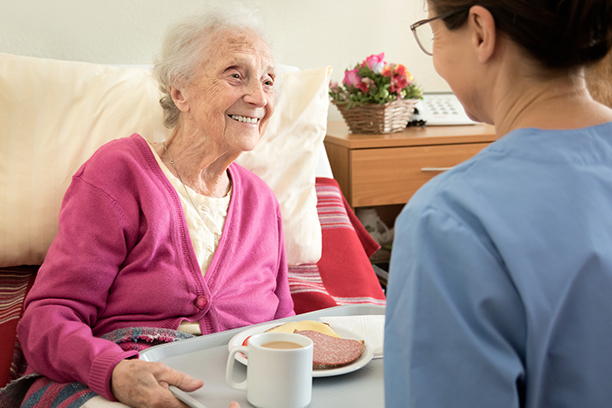 Dignified Incontinence Care at Home for Seniors in Westerville, OH and Surrounding Areas
A common problem among the elderly is incontinence. Incontinence may be brought on by a number of factors, including aging, medication side effects and chronic illnesses. In order for seniors to be able to enjoy their golden years in comfort and good health, it is essential that they get the care they need to manage incontinence difficulties. This will allow them to retain their independence for as long as possible.
At Visiting Angels of Westerville, we help elderly people with incontinence in their own homes in Northeast Franklin and Delaware Counties, including Westerville, Powell, Gahanna, Worthington, New Albany and other nearby towns. When an accident happens, our caregivers will be there to assist clean up the mess and keep an eye on your loved one while treating them with the utmost dignity and respect. With incontinence care from Visiting Angels, you can have peace of mind knowing your loved one is in good hands.
Why Choose Incontinence Care from Visiting Angels of Westerville?
At Visiting Angels of Westerville, our objective in providing incontinence care at home is to reduce the likelihood of any humiliating incidents occurring. This includes not just cleaning up accidents caused by incontinence but also keeping track of when they occur, which can help your loved one's healthcare provider pinpoint the issue.
Our caregivers will clean any soiled linens or clothing after an accident. If your loved one has trouble walking, their caregiver can help them get dressed, take a shower and use the bathroom. We try to work as quickly as possible to reduce the chance of health problems. Our incontinence care services are confidential as well, so your loved one may get the care they need without embarrassment.
Our caregivers can also keep a record of how your loved one uses the bathroom every day and any accidents that happen. Keeping track of how frequently your loved one has accidents can help their doctor diagnose and treat the underlying issue of incontinence. This will ensure that your loved one receives the attention they need to maintain their comfort.
Visiting Angels of Westerville is flexible and will accommodate your loved one's routine. Our caregivers are available from as little as two hours per day up to 24 hours per day. This ensures that your loved one will have access to in-home incontinence care when they really need it.
Call our Westerville, OH office at 614-810-8791 to learn how Visiting Angels can help your loved one.
Serving Westerville, Powell, Gahanna, Worthington, Galena, New Albany and Surrounding Area
Visiting Angels
WESTERVILLE, OH
100 Dorchester Sq, #101
Westerville, OH 43081
Phone: 614-392-2820