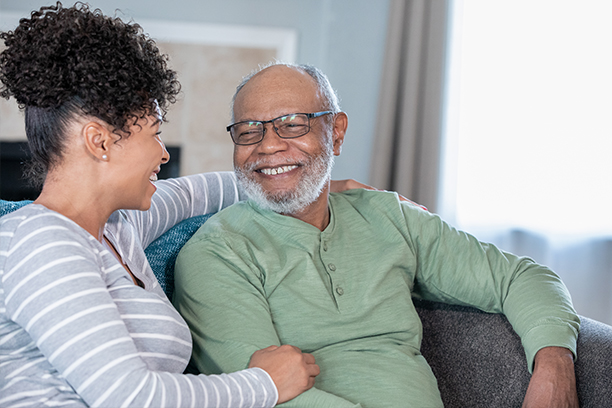 Comfort Care for Seniors with Parkinson's in Greater Westerville, OH
If your loved one has been diagnosed with Parkinson's disease, it can complicate their ability to live independently. They may need an additional caregiver who can help them manage their symptoms on a regular basis. This is where Visiting Angels of Westerville's comfort care services can help.
Visiting Angels Provides Comfort Care Services to Seniors with Parkinson's in Westerville, OH, and Surrounding Areas
We offer personalized in-home care services that seniors living with Parkinson's disease in Westerville, Powell, Gahanna, Worthington, and surrounding areas in Ohio can rely on to remain as comfortable and independent as possible.
With the support of our comfort care services, your loved one will be able to maintain a healthy quality of life in their own home for as long as possible while getting the support they need to manage their symptoms.
What is Parkinson's?
Parkinson's is a disease of the central nervous system that affects a person's ability to control body movements. As the disease progresses, it can cause tremors, loss of balance and coordination, slowed movement, and rigid muscles. When looking at the big picture, Parkinson's is considered a neurodegenerative disease because it affects the structure and function of neurons in the central nervous system.
Some common symptoms of Parkinson's include:
Stiffness or slowness of movement
Loss of balance and coordination
Tremor in the hands, arms, legs, hips, and jaw
Rigid posture and poor coordination
Slowed movements
Difficulty walking from one room to another
Difficulties with speaking or swallowing
How Can Parkinson's Care from Visiting Angels of Westerville Help My Loved One?
Living with Parkinson's can make it difficult for seniors to complete day-to-day tasks. In addition, certain symptoms can increase your loved one's chance of falling or injuring themselves, which could create a lengthy recovery period and interfere with their independence.
That's why at Visiting Angels of Westerville, we help seniors who are living with Parkinson's by:
Offering feeding assistance when tremors are too strong to hold eating utensils
Running errands
And so much more
Unlike other local home care agencies in Franklin and Delaware Counties, Visiting Angels of Westerville offers a personalized, one-on-one approach to comfort care. By arranging an in-home consultation and creating a fully customized plan of care, we can ensure that your loved one receives the best care possible while giving you peace of mind knowing that they are receiving the support they need in their own home. Our care plans are also flexible, so if your loved one's condition changes, we can work with you to make any adjustments needed.
If you have a loved one living with Parkinson's disease or would like to learn more about our personalized comfort care services, contact our Westerville, OH, office today at (614) 392-2820.


Serving Columbus, Westerville, Powell, Gahanna, Worthington, New Albany, and Surrounding Areas
Visiting Angels
WESTERVILLE, OH
100 Dorchester Sq, #101
Westerville, OH 43081
Phone: 614-392-2820