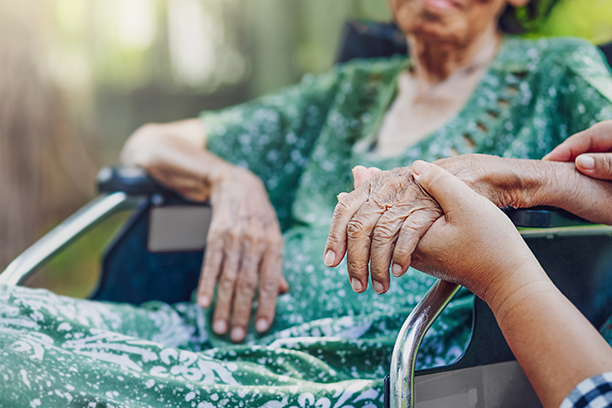 Overnight Home Care for Seniors in Columbus OH
When a senior family member begins to need in-home care, they may only require a few hours of help each day. Having someone to help them and keep them company is more than enough for many older adults, despite the fact that certain everyday tasks may become difficult for them to do on their own due to age-related issues.
However, there may come a time when your loved one may start needing more extensive, around-the-clock care. Families often worry about finding someone to take care of a loved one at night. For seniors with severe age-related concerns or a significant sickness or accident, nighttime care may minimize the risk of any issues with roaming, wanting to go to the toilet, and other scenarios.
Visiting Angels of Westerville is here to help if your elderly loved one needs overnight home care. We've been helping seniors age in place while staying safe and comfortable in Westerville, Powell, Gahanna, Worthington and surrounding Ohio communities for over a decade. To help elderly and disabled adults get a good night's rest, our home care services are available around the clock.
Benefits of Overnight Home Care for Seniors
Overnight care helps seniors who have a chronic illness
Seniors with certain chronic conditions may find it challenging to complete everyday tasks. To ensure that your loved one has the help they need whether they need to take their medicine before bed or need someone to change their bedsheets in case of an accident, you should hire a professional caregiver from Visiting Angels of Westerville. Aside from monitoring your loved one, our caregivers will also warn you if their symptoms begin to interfere with their sleep schedule.
Overnight care is helpful when recovering from an injury or surgical procedure
If your senior loved one has been released from the hospital after having surgery or recovering from a serious injury, they may still need help with everyday tasks because they may be too hard for them to do on their own. At Visiting Angels of Westerville, our caregivers can help your loved one get in and out of bed safely, take a bath and do other things to take care of themselves before bed. If they need to get up in the middle of the night, our caregivers can help them move from room to room or up and down the stairs safely. They can also make sure they don't fall, which could make their injury worse or cause problems after surgery.
Overnight care is helpful for seniors living with dementia
If your loved one has dementia, they might forget to do things like turn off the oven or lock the front door before going to bed. Before bedtime, our caregivers can help your loved one set up a routine and remind them to do important things. Also, wandering is a very common sign of dementia. If someone you care about often gets lost at night, they could get sick or hurt. Our home care services include keeping seniors from wandering, so our caregivers will make sure your loved one stays at home all night. We also give one-on-one support and companionship, so your loved one will always have someone they know to keep them company.
Call or Text Visiting Angels today at (614) 392-2820 to learn how our overnight in home care services can help your loved one!
Serving Columbus, Westerville, Powell, Gahanna, Worthington, New Albany, and Surrounding Areas
Visiting Angels
WESTERVILLE, OH
100 Dorchester Sq, #101
Westerville, OH 43081
Phone: 614-392-2820