If you're looking for caregiver jobs in Northeast Franklin and Delaware Counties in Ohio, consider joining the team at Visiting Angels of Westerville!
Visiting Angels is part of the nation's leading, nationally respected network of private duty home care agencies providing in-home senior care services that help elderly and disabled adults continue to live in their homes across America. Our Westerville office services Northeast Franklin and Delaware Counties in Ohio and the Greater Columbus area, including Gahanna, Worthington, Columbus, New Albany and surrounding areas.

We are seeking CNAs, HHAs and experienced Caregivers to assist clients living in their homes with everyday tasks. We offer competitive hourly wages, flexible hours, referral bonuses and a friendly environment that fosters personal growth.
If you're interested in one of our caregiver jobs, you must have the following:
We run extensive background and reference checks as well as pre-employment drug tests.
Verifiable references
Verifiable education credentials
Valid driver's license, access to a vehicle with proof of auto insurance
Proof of eligibility to work in the United States
The Qualities of a Visiting Angel caregiver: We look for compassion, reliability, a caring nature, maturity, agility, sincerity, timeliness, trustworthiness and dependability.
We are looking for reliable, upbeat caregivers with a desire to make a meaningful difference in the life of a senior and others in need of assistance.
Visiting Angels of Westerville, OH: A Place You'll Love to Work
We offer many benefits to those interested in joining our team of home care experts. Learn why caregivers love being part of the Visiting Angels of Westerville family!
Why One-on-One Caregiving?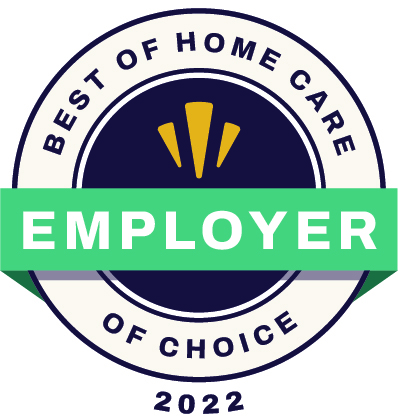 Our caregivers' most important task is helping our clients re-engage and enjoy their lives more fully! Working with clients one-on-one allows caregivers to form closer relationships with clients and provide them better and more complete care.
When our clients need help with everyday activities that most take for granted: running errands, meal preparation, excursions or shopping trips, laundry, personal care, keeping the house neat and tidy – our caregivers are there to lending a helping hand.
We find that when these everyday trivialities are less of a burden, our clients can open up, flourish, and find joy again in everyday living. Our caregivers find their greatest personal satisfaction in giving their clients that priceless and unique relief with one-on-one, attentive, personalized care.
Learn About Current Caregiver Job Openings
We're hiring for a variety of shifts, including weekdays, weekends and overnight assignments. Contact our Westerville, OH office to learn how you can join our team!
Our office serves senior clients throughout the Greater Columbus area, Northeast Franklin County and Delaware County including Westerville, Worthington, Powell, Gahanna, Columbus, Lewis Center, New Albany and the surrounding areas. If you are a compassionate person with caregiving experience, we would love to hear from you!
What is it like to be an Angel Caregiver with Visiting Angels of Westerville, OH?

"Working for Visiting Angles Westerville has been a great opportunity and a fulfilling experience. I have felt supported during my time here. The job is flexible and the owners are amazing to work with!" - Emmy N.

"As a caregiver I feel like the staff cares about me as a caregiver. My leadership leads by example and gives me the education and skills to be and do my best" - Wanda C.