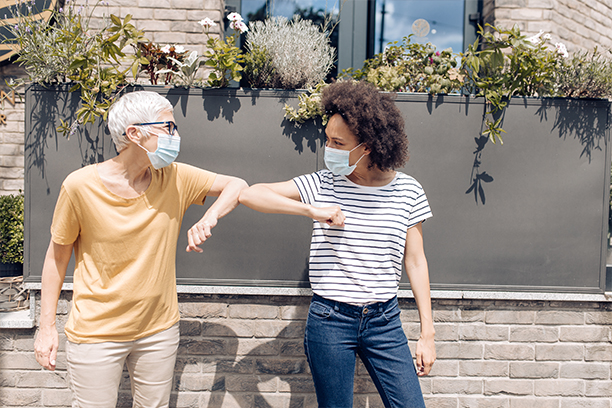 Fall Prevention from Dedicated In-Home Caregivers from Visiting Angels of Westerville
Through our Fall Prevention Program, our dedicated and experienced in-home caregivers help seniors in Westerville, Gahanna, Worthington, Columbus, and surrounding areas in Ohio stay safe
The Centers for Disease Control and Prevention reports that one out of four seniors falls each year. Of those who fall, one out of five suffers a seniors injury. Visiting Angels of Westerville's Fall Prevention Program helps local seniors learn about preventing falls, and as a result, preventing injury. Through our Fall Prevention Program, our in-home caregivers help Westerville seniors maintain their quality of life as well as their independence.
But falls don't just affect seniors physically. They also cause major harm mentally. The fear of falling can prevent seniors from socializing with loved ones and attending important events including family reunions and dinners. This social isolation is linked with many different physical and cognitive ailments for seniors, including anxiety, depression, Alzheimer's disease, and heart disease.
Risk Factors for Falling
Falling may seem like it happens out of the blue, but many risk factors can lead to a life-altering fall. Risk factors could concern their home environment or health issues that a senior deals with. Within the environment, risk factors could include a lack of grab bars in the bathtub, dim lighting or slippery surfaces. In the senior's health, risk factors of falling could be poor vision, balance problems or arthritis. The more risk factors that a person has, the more chance that they have of falling. The sooner that you identify these risk factors and address them, the sooner that falls can be prevented.
At Visiting Angels of Westerville, our in-home caregivers are dedicated to helping local seniors in Franklin and Delaware Counties learn more about preventing falls and injuries. When we work together, we can help local seniors within the Westerville community improve their quality of life and maintain their independence.
Want to learn more about our Fall Prevention Program? Call Visiting Angels of Westerville at (614) 810-8791 today and learn how we can help.
Serving Westerville, Powell, Gahanna, Worthington, and throughout Northeast Franklin and Delaware Counties
Visiting Angels WESTERVILLE, OH
100 Dorchester Square #101
Westerville, OH 43081
Phone: 614-810-8791