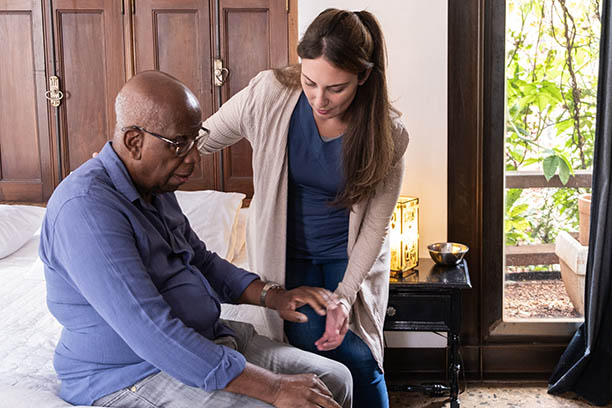 Comforting Palliative Care for Seniors in Greater Westerville, OH
As seniors age, they begin to experience discomfort. Whether it's physical discomfort from age-related aches and pains or loneliness from not being able to go out and socialize with friends and family as often as they used to, seniors who live on their own often need a caring presence to help them not only stay safe, but comfortable and content.
At Visiting Angels of Westerville, our palliative care program provides in-home senior care that not only meets but exceeds the expectations of families in Westerville, Powell, Gahanna, Worthington, and throughout Northeast Franklin and Delaware Counties in Ohio. We can provide the comprehensive support your loved one needs to make living out their golden years at home a rewarding and positive experience.
How Our Palliative Care Services Help Seniors in Westerville, Powell, Columbus, OH, and Surrounding Areas
At Visiting Angels of Westerville, our holistic mindset rings true throughout all aspects of our home care services. We train our caregivers to be soothing, supportive, and comforting towards their clients. While relieving pain and stress from our clients, we also strive to be a source of hope and happiness as well.
At Visiting Angels of Westerville, we treat our clients as unique human beings, not as a to-do list. Our caregivers cater to their physical, emotional, social, and spiritual needs when providing palliative care.
We address the physical care needs of our clients by responding to physical signs that are common among the elderly. We then provide essential personal care to our clients in Northeast Franklin and Delaware Counties to help soothe them.
We address their emotional needs by prioritizing compassion in our care and supporting seniors who may be suffering from anxiety, depression, loneliness, or stress.
We address their spiritual needs by helping our clients find comfort and relief from age-related difficulties and helping them find hope throughout their day. We always treat our clients with dignity and respect.
We address the social needs of seniors by building long-term relationships with our clients and their families. We also provide conversation and companionship throughout our companion home care services.
Getting Started with Visiting Angels of Westerville
Have any questions about our palliative care services? Contact Visiting Angels of Westerville today and learn how our in-home care services can provide the comfort your loved one needs.
We can also coordinate a free in-home consultation between you and our care director in your home so they can help you evaluate your options and help you take that next step. We offer the ability to Select Your Caregiver, customized care plans, and a kind, client-centered approach to palliative care.
Call the Visiting Angels of Westerville office today or fill out our contact form to learn more about our senior care services and schedule a free, in-home consultation!


Serving Columbus, Westerville, Powell, Gahanna, Worthington, New Albany, and Surrounding Areas
Visiting Angels
WESTERVILLE, OH
100 Dorchester Sq, #101
Westerville, OH 43081
Phone: 614-392-2820
Differences Between Palliative and Hospice Care
Many people confuse palliative and hospice care, but they both cater to a separate kind of client. Hospice care is often reserved for clients who are nearing the end of their lives. Palliative care, on the other hand, elevates the comfort levels and overall well-being of all clients regardless of their life expectancy.