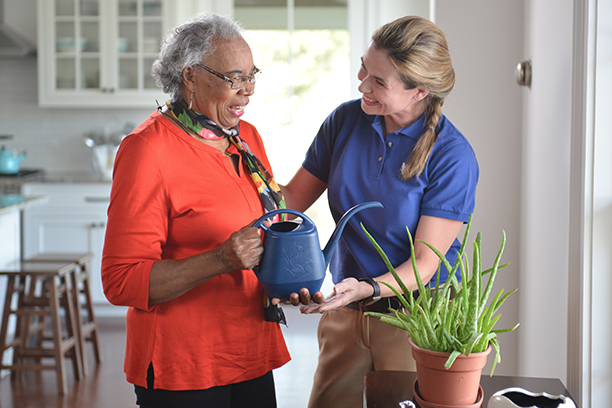 Elder Care Options for Seniors with Alzheimer's in Westerville, OH
At Visiting Angels, our in-home elder care services help seniors in Westerville, Gahanna, Worthington, Columbus and surrounding areas in Ohio manage symptoms of Alzheimer's while living independently. Learn about your options for in-home care when your loved one is living with Alzheimer's
Has a loved one recently been diagnosed with Alzheimer's? At first, the diagnosis can feel scary and isolating. But, there's a community of people across the globe who are going through the same things that you are. According to the Alzheimer's Foundation of America, as many as 5.1 million Americans currently deal with Alzheimer's disease.
There are treatments and therapies available to help slow the worsening of the disease and help those dealing with it have as normal of a life as possible.
Has your loved one been showing symptoms of Alzheimer's? It's important to get them in front of a physician and diagnosed as quickly as possible. Being proactive is key when dealing with Alzheimer's and finding elder care options.
Ten of the most common warning signs for Alzheimer's include:
Memory loss that disrupts daily life

Challenges in planning or solving problems

Difficulty completing familiar tasks at home or work

Confusion about time or place

Trouble understanding visual images or spatial relationships

New problems with works (speaking or writing)

Misplacing things or losing the ability to retrace steps

Decreased or poor judgement when making decisions

Withdrawal from work or other social activities

Changes in mood or personality (i.e. mood swings, disinterest in usual activities, fearfulness, depression)
Being Proactive is Key
The sooner you take your loved one to their primary care doctor, the sooner an elder care plan can be formed. It's important to understand that Alzheimer's isn't a normal part of the aging process. Aging adults may deal with one or two of the previous symptoms to a certain degree, but with Alzheimer's the symptoms get worse over time.
To learn more about your options for Alzheimer's care, or learn more about the disease, contact our office at (614) 392-2820 at your earliest convenience. At Visiting Angels of Westerville, we're here to remind you that you aren't alone.
Serving Columbus, Westerville, Powell, Gahanna, Worthington, New Albany, and Surrounding Areas
Visiting Angels
WESTERVILLE, OH
100 Dorchester Sq, #101
Westerville, OH 43081
Phone: 614-392-2820