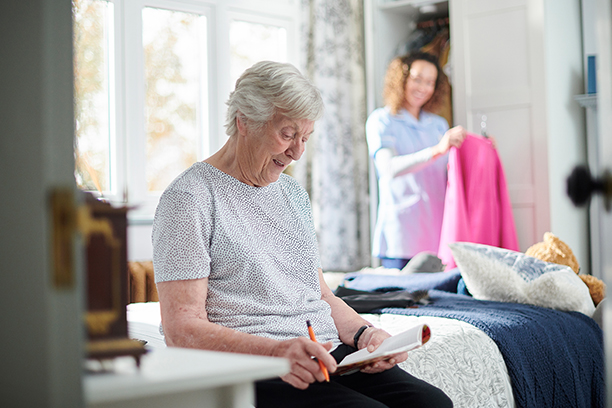 Elderly Care Batavia
Types of Elderly Care Services in Batavia
Elderly care services from Visiting Angels Batavia are designed with flexibility in mind. We provide a variety of non-medical services to not only offer a helping hand to your loved one, but to make your life easier, as well. You simply choose the services that work best for you and your family – and we do the rest. It's that simple!
Custom Elderly Care Plans to Meet Your Needs
Before we begin, we'll schedule a meeting with you and your loved one. We want to know about their physical and emotional needs, as well as mealtime schedules, medications, sleeping habits, and other important details about their life.
Once we learn about your family member, Visiting Angels Batavia can then go about creating a personalized elderly care plan that's just right for them. At any time, it can be easily updated if you would like to add on or modify any services. If needed, we can even provide care in the evenings, on weekends, and during holidays and other occasions. We're here for you around the clock, 24/7. And of course, throughout the experience, we keep the lines of communication open to ensure both you and your loved one are getting the right level of support at all times.
A Variety of Elderly Care Services from Visiting Angels Batavia
Is your aging parent having a difficult time keeping their home clean and kitchen stocked? Are they missing medications or coming up short before they can get a prescription refill? Are they having issues with personal hygiene or following a prescribed diet?
At Visiting Angels Batavia, we can help with all this – and so much more. We assist families in Batavia, Wilmington, Washington Court House, Hillsboro, Greenfield, and Mount Orab, as well as in the surrounding communities, through a variety of elderly care services. Our caregivers can assist with light housekeeping, meal planning and preparation, grocery shopping, bathing, dressing, and grooming. They can provide help with medication reminders, respite care, Alzheimer's challenges, diabetes management, and many other aspects of care. Or they can simply act as companions if your loved one is lonely or despondent after the death of a friend or spouse.
The Peace of Mind You Deserve
Our flexibility goes beyond the services we offer. At Visiting Angels Batavia, we're also proud to feature our Select Your Caregiver™ program. Through this program, we can best match the needs of your loved ones with our skilled and compassionate caregivers. We want you to be comfortable with your caregiver, so you can rest easy knowing your loved one is receiving the very best care – from the very best caregiver. It's just another way Visiting Angels Batavia elderly care services are different.
If you're searching for an elderly care service that provides flexibility and peace of mind, call our office today. Like family, we'll always be here when you need us.
Serving Communities in Clinton, Fayette, Highland, Brown, Ross, Pike and Southern Pickaway Counties
Visiting Angels
WILMINGTON, OH
36 E Locust St
Wilmington, OH 45177
Phone: 937-240-1992 or 513-445-9995