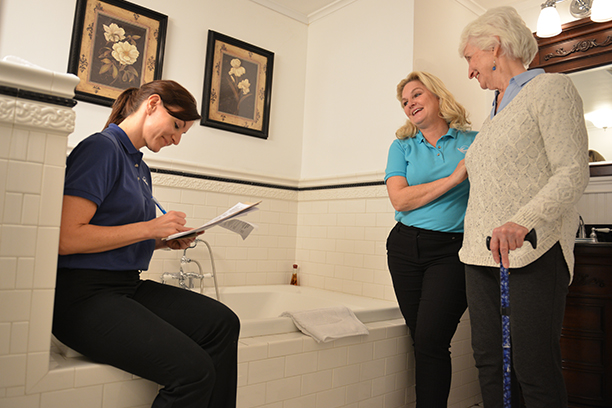 Senior Home Care Hillsboro Ohio
Senior Care in Hillsboro
Informed Senior Care from Visiting Angels Hillsboro
Finding a provider you can trust to care for your loved one in your absence is no small feat. You want someone who will treat your family member with kindness and dignity. You want someone who is trustworthy and compassionate. You want someone who is knowledgeable and most importantly, who will keep you informed of your loved one's progress. When you select senior care services from Visiting Angels Hillsboro, you will get all of this and more.
Visiting Angels Hillsboro is a locally owned and operated senior care agency. We provide non-medical in home that allows our clients to live independently where they feel most comfortable. Our services have helped many families in Hillsboro, Wilmington, Washington Court House, and the surrounding communities to give their loved ones the lifestyle they desire. The senior care providers from Visiting Angels Hillsboro will ease your mind and keep an open line of communication regarding your family member.
Engaged Senior Care Services
When you choose senior care from Visiting Angels Hillsboro, our system of continuous monitoring comes standard. We place frequent phone calls to you and your loved one to gauge satisfaction. Additionally, we provide complimentary drop-in visits during care hours to see for ourselves how things are going. We believe this is the best way to ensure our clients are happy and satisfied with their care. Should you have a question regarding your family member's senior care, you can contact Visiting Angels Hillsboro any time, to speak with a knowledgeable staff member.
At Visiting Angels Hillsboro, our Angel companions are knowledgeable senior care providers and are in tune to any changes in your loved one's behavior that might signal a concern. Whether it be sudden changes in appetite or mood differences, if your caregiver notices a cause for concern they will communicate with you to make sure your loved one is properly taken care of. Senior care from Visiting Angels Hillsboro offers more than just someone to show up and provide assistance. Our caregivers are like an extension of your family looking out for your parent or loved one.
Customized Senior Care Plans
Because the senior care plans from Visiting Angels Hillsboro are customized, you can work alongside our staff to create one that is just right for you. From selecting your services, to dictating the times of day and number of visits, you are in the driver's seat. We also encourage you to be involved in the caregiver selection process so you can feel confident the person you choose will fit in well in your loved one's home.
Give Visiting Angels Hillsboro a call to learn more about our senior care options.
Visiting Angels in Hillsboro
131 W Walnut St
Hillsboro, Ohio 45133
Serving Communities in Clinton, Fayette, Highland, Brown, Ross, Pike and Southern Pickaway Counties
Visiting Angels
WILMINGTON, OH
36 E Locust St
Wilmington, OH 45177
Phone: 937-240-1992 or 513-445-9995