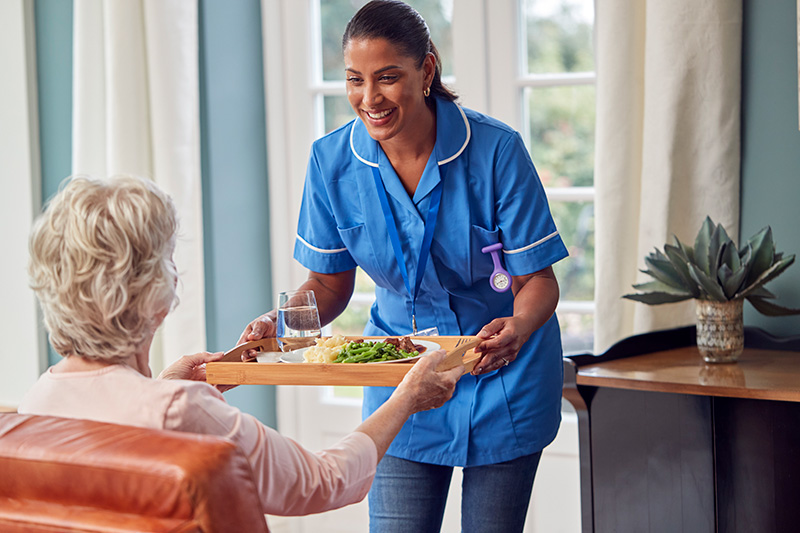 6 Reasons The Elderly May Lose Their Appetite
Does your elderly loved one struggle to eat during meal times or frequently complain about a loss of appetite? Are they experiencing rapid weight loss or looking frail?
If so, schedule a check-up with their doctor immediately to determine whether their loss of appetite is related to any underlying health problems. If any health or medical issues are not triggering their eating difficulties it good is a common age-related factor.
Common Causes Affecting a Senior's Appetite
As seniors age, they sometimes struggle with eating or appear to lose their appetite altogether. Many reasons could be the culprit, but common causes can include:
Senses are Changing
A change in taste and smell is quite common when aging. Many seniors develop less sensitivity to flavor, which causes previous foods to become bland or even tasteless. Some may also create sensitivity to the smell of certain foods, which can lead to reduced appetite.
Dehydration
We all can become dehydrated and not notice it. The elderly are a little more prone to not seeing it, which results in them becoming dehydrated and experiencing diminished energy, headaches, and a loss of appetite.
Reduced hunger
Age-related changes to the body can lead to seniors feeling reduced hunger levels, even when they haven't eaten for some time. A sedentary lifestyle, little physical activity, and some medicines reduce hunger.
A New Diet
Their medical provider may recommend specialized diets; two common ones are low-sodium and low-carbohydrate. Changing their diets can cause a dread of eating because they have to give up their preferred foods. Some seniors may also feel they are losing more independence by not being unable to choose their dietary choices.
Physical impairment
A physical impairment can lead seniors to eat minimally. This mobility problem makes it harder for older adults to go to the grocery store, reach for something in the pantry or even prepare meals. Also affecting their eating habits may be difficulty chewing, swallowing, or using utensils. Memory loss can also contribute to a reduced appetite. They may not know how long it has been since their last meal.
Mental health
Meals are considered a social event by many. Suppose they lack interaction during the meal; it may be a sad occasion. Isolation, along with Depression, anxiety, or loneliness, may cause seniors to skip meals.
In-Home Caregivers Can Help Seniors Eat Well
Ensuring your senior loved one eats well can be a full-time job. A Visiting Angels senior care provider is available to assist if you need additional support.
Our caregivers can help seniors meet nutritional needs by providing:
Mealtime companionship
Being a companion during meals can help seniors enjoy eating again. Our caregivers are available to keep them company while they eat, making meals something to anticipate.
Gentle encouragement and reminders
Visiting Angel caregivers can make sure your loved ones can eat a healthy snack during the day, suggest it's time to take their vitamins or nutritional supplements, and help them at mealtimes without feeling pressured or pestered.
Meal planning and preparation
Our in-home caregivers can help plan nutritionally balanced meals and assist with grocery shopping and food preparation.
Assistance with prescribed diets
Our caregivers can help your loved ones prepare tasty snacks and meals that align with their prescribed diets. They can help your loved ones enjoy meals again while maintaining their health.
Observation and monitoring
Our in-home caregivers can monitor for concerning signs, keep you and your family informed, and call for emergency assistance when necessary.
Following a healthy nutrition plan can sometimes be difficult for aging adults, but home care support from Visiting Angels will help your loved one benefit from proper senior nutrition and enhanced well-being.
Contact Visiting Angels today! Our care coordinators will discuss your senior's needs via a free home care consultation.
6 Reasons The Elderly May Lose Their Appetite
6 Reasons The Elderly May Lose Their Appetite | Blog Article | Visiting Angels | York County SC | All Rights Reserved. | Aug 2022