Senior Home Care Services serving York County and Lancaster County And Chester County
Visiting Angels of York County, SC is a Senior Home Care Agency that provides a self-directed model for all your Senior Home Care needs. At Visiting Angels, we have our very own compassionate caregivers who can provide seniors or adults with the one-on-one care and assistance required to live a happier and healthier life - all from the comfort of their own home.
You're in Control - "America's Choice In Senior Home Care"
With Visiting Angels, you and your loved one decide on what senior home care services are required and have total control over schedules. We'll take care of administrative paperwork, so you have the freedom to focus on the things that matter most to you.
We pride ourselves on compassionate, dignified senior home care services to make independent living possible despite the troubles that old-age naturally brings. Our clients tell us that the professional, loving and well-treated caregivers we have go above and beyond to make your loved one's in-home care dream a reality.
Getting started with Visiting Angels: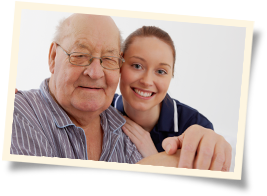 Visiting Angels know that physical and mental limitations can make independent living tough, we also know that a nursing home is an unattractive and saddening alternative. If you want your loved one to remain in their own home, you're in the right place. We'll make living at home comfortable again so that they can thrive regardless of age.
We Will:
Learn about your loved one's care needs and listen to any concerns you might have.
Schedule an in-home visit.
Help provide your relative with a nurse that meets their needs and personality.
Create a personalized care plan.
We are available 24/7, to answer any concerns you may have and provide constant monitoring and communication.
Make a plan that enables in-home care to begin and remain a thriving and relaxing experience.
Aging in Place
Senior Home Care is about the dream of living in your own home for as long as possible. It's our dream too, and through a wide range of activities, we can help your loved one live a flourishing life while enjoying the comforts of their home.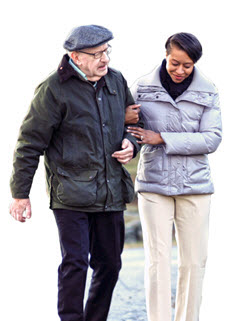 We can provide support with:
Senior Home Care activities we commonly help with:
Diet monitoring including planning and preparation of meals
Light housekeeping including help with laundry, making beds and cleaning
Assistance with shopping, running errands and transportation to appointments or activities
Assistance with bathing, dressing, grooming and toileting
Reminders to take medications, drink fluids and eat regularly
Going for walks, engaging in favorite hobbies and friendly, understanding companionship
Easy Transition
We're aware that welcoming a caregiver into your home can be difficult. We strive to make sure that transition goes as smoothly as possible for your loved one and your family. Our Senior Home Care caregivers are trained in this process and as genuinely compassionate people and ensure communication and relations are easy.
Our senior home caregivers are available on weekdays, weekends and during holidays. Overnight visits are also available when needed. From hourly visits to constant 24-hour care, a Visiting Angels caregiver can be there when you need them.
Ready-Set-Go Home:
One of our most successful Senior Home Care services is "Ready-Set-Go Home." This is a transitional care program that is designed to allow seniors to make a successful transition home after hospitalization. The program prevents hospital readmissions: a significant risk for seniors in the month after hospital discharge.
We utilize a three-pronged approach to make this work.
At the Hospital - Our caregivers can meet your loved one and their doctor to learn about their situation and gather the much-needed information that will help them thrive once they head home.
At Home - Our Senior Home Care Caregivers will provide skilled, non-medical care that ensures your loved one is as safe and comfortable as possible in their very own home. We'll act as the "eyes and ears," noting any changes in health or behavior so they avoid readmission. Medication doses and medical protocols will be met, so your family can focus on spending quality time together without stress.
At the Visiting Angels HQ- We'll answer any concerns you may have and make sure you're fully up-to-date with each day's events.
No Minimums Contract Required
We know your needs require care that is flexible and stress-free. That's why we do not require our clients to sign binding commitment contracts. Pay can always be made privately and through long-term care insurance.
Why Choose Visiting Angels?
Visiting Angels sets itself apart from other Senior Home Care service providers by putting you in control. We work around your schedules and demands because your family and loved one's health is the priority. Our clients have been able to relax at home again through a comfortable life that allows family members to focus on their relationships again - not difficult, stressful caregiver tasks.
Our Values:
COMPASSION
INTEGRITY
TEAMWORK
SERVICE
Visiting Angels, Senior Home Care Reviews
"My mother is being moved from her home to an assisted care facility for memory care next week. We appreciate the assistance Visiting Angels has provided our family. Again thanks for your help in keeping our family safe." - T.W. - Lancaster, S. C.
"I wanted to thank you and let you know how professional your staff was towards our family while we utilized your wonderful services. First, your calls during your time off, followed by lovely Mary who made an instant connection with Dad. This morning, I find Dad beaming as he is walking down the hallway with Pamela, and finally I checked my voicemails going home to find Krystal describing the plan of care with caregivers for our family. During this new chapter, it is beyond comforting to know that a company like yours is there for you when you need them." - D.B. - Ft. Mill, S.C.
Call Us for a Free Consultation for Senior Home Care
You can call us in Rock Hill today at (803) 610-4200 to learn more about our Senior Home Care services and schedule a free consultation. As part of this complimentary meeting, our administrative staff can visit your loved one's home and perform a safety and fall prevention assessment. We'll then go over your loved one's needs, scheduling requirements and provide you with our fall prevention brochure.
The sooner you call Visiting Angels York County, the sooner your loved one can start living a confident life again at home, with compassionate and understanding Senior Home Care.