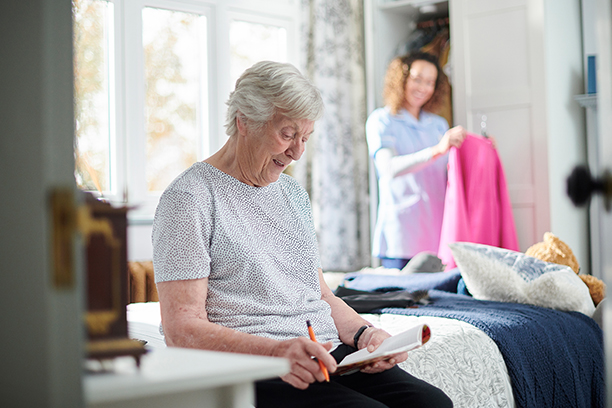 Senior Home Care Services in Lake Wylie, SC
Visiting Angels provides Senior Home Care in Lake Wylie, SC for anyone who needs one-on-one assistance, while remaining in the comfort of their own home. Our professional team of caregivers offers compassionate assistance to help Lake Wylie residents live a happier and healthier life. Our self-directed model can make in-home care a reality for your loved one, so you can focus on what matters most.
Visiting Angels have been providing elderly home care across the U.S. since 1998. Our commitment to you is simple: We'll help your loved one continue to live at home, and we'll help you find peace of mind.
Lake Wylie Senior Home Care
With Visiting Angels, you control your Lake Wylie Senior in-home care based on your needs and concerns. The schedules and demands are built around you. Our own team of caregivers will help you form a personalized service that can include:
Assist with Bathing
Assist with Dressing
Personal Hygiene Assistance
Walking Assistance
Fall Prevention
Meal Preparation/Diet Monitoring
Laundry and Light Housekeeping
Running Errands and Shopping
Transportation to Appointments
Medication Reminders
Meaningful Companionship
Care is Available Mornings, Mid-Day and Evenings
Temporary or Long Term Care is Available
Weekends and Holiday Care is Available
24 Hour Care Available
Respite Care for Family Caregivers
We'll help ease the burden on your family by:
Consulting and including you in scheduling, costs and care plans.
Planning an in-home visit.
Helping you create your loved one's personalized care plan.
Consistent monitoring, feedback and communication.
Lake Wylie Elderly Companion Care
If you're concerned about your elderly loved one's ability to live at home in Lake Wylie, then Visiting Angels can help. If your parent or relative has a tough time keeping up with daily activities or companionship, then in-home care may be beneficial. Any concerns you have over your loved one's dietary needs, medications reminders and safety can all be solved with our reliable, passionate assistance.
We know that for most seniors, living at home becomes more and more difficult with time. We know that seniors thrive while living in the comforts of their own home. There is an alternative, and we offer just that. With Senior Home Care in Lake Wylie, utilizing Visiting Angels services you'll have piece of mind which will allow you to free up time to focus on your loved ones that matter most. We are licensed, bonded and insured with the appropriate insurance.
Personal or Private Duty Care in Lake Wylie
Personal care, also known as private duty care, from our caregivers in Lake Wylie gives those with limited mobility a chance to live an independent lifestyle at home, despite their physical limitations.
With disability, tasks that are taken for granted or seem simple can become cumbersome or impossible. If your loved one in Lake Wylie struggles due to the effects of aging, stroke, disability, injuries or any other cause, then private duty or personal duty care can offer them the chance to thrive in their own home.
We can assist with:
Walking assistance
Fall prevention
Bathing & grooming
Dressing assistance
Transferring
Transportation
Toileting
Running errands
Meal preparation
Light housekeeping
Grocery shopping
Joyful companionship
Medication reminders
Care is available 24/7, 365 days of the year. If you need a caregiver who is awake through the night, then that can be arranged.
Respite Care in Lake Wylie
Caring for a loved one is one of the most generous acts of love that a friend or family member can do. It requires dedication, patience and ample amounts of time to assist properly. We know how hard it can be, and we know ideally you want a break from it. With the Visiting Angels in-home respite care program, we can give you the opportunity to focus on the side of the relationship that matters most.
Whether you need help with a few hours a day, or for several days a week, Visiting Angels is here to help. By merely stepping away, you can remove that burden and anxiety on yourself. We've seen families enjoy quality time together once they can free themselves from some of the pressure of care.
Lake Wylie Senior Life Care Navigation
At Visiting Angels, we customize a care plan for each individual client that meets his/ her needs. We learn what each client likes and dislikes to make sure we have the perfect fit with each caregiver that comes into the home.
Senior life navigation combines services from eight different areas of Senior Home care to provide a customized care plan that helps seniors flourish in their own home. Our highly trained caregivers can help restore hope by caring for the emotional, spiritual and physical needs of your loved one.
We can provide this highly effective program for:
Certified Palliative Care
Ready-Set-Go Home (Help to avoid hospital readmission)
Call us today to schedule a free Lake Wylie in-home senior care consultation.
Certified Palliative Care in Lake Wylie
Palliative Care provides elderly Lake Wylie residents the chance to improve their quality of life by focusing on their physical, emotional, social, and spiritual needs. Our goal is to enrich the lives of all our clients, regardless of their life expectancy or illness. Our program goes far beyond what most people think of when thinking about 'palliative care' as we strive daily to relieve discomfort and improve the overall enjoyment of life.
Alzheimer's Care in Lake Wylie
Alzheimer's is one of the most heartbreaking and devastating diseases one can suffer. The fatal brain disease causes a gradual decline in memory and thinking skills, that affects all areas of life. It is extremely testing for families to handle. We know how painful it can be to put anyone who has Alzheimer's in a nursing home. That's why we have caregivers with advanced training so that they can provide Alzheimer's Support in Lake Wylie.
People living with Alzheimer's have unique needs that require dedicated personalized care. With Visiting Angels we can provide just that to make life for your loved one and your family as smooth as possible.
Ready-Set-Go Home (Reducing Hospital Readmissions)
Ready-Set-Go Home is a transitional care program we've designed, that helps patients in Lake Wylie make successful transitions back home, after a hospitalization. This is the key to a full recovery. Around 20% of discharged patients return to the hospital in the month after being sent home. Once they return, the chances of a full recovery drop; and things get bleak.
Our Read-Set-Go Home program is committed to making that transition home easy and comfortable. We'll be the "eyes and ears," monitoring any changes in health or behavior, so readmission is avoided.
Lake Wylie Social Care Provider
Ensuring the mental health of all our clients is as valued as their physical and logistical needs is a priority of ours. This holistic approach includes meeting social needs. Alongside their companionship service, our caregivers can help clients with the internet. A University of Arizona study found that seniors who used technology to socialize found a 25% improvement in their mental skills. With internet assistance, your loved one will be able to stay in touch with family and friends without the stress of not understanding technology.
Dementia Care in Lake Wylie
Whether your loved one is in the early stages, mid-stages or late-stages of dementia, our loving caregivers can help them live at home comfortably.
With full command over their demands, clients can be assisted with:
Wandering prevention
Walking assistance
Meal preparation
Medication reminders
Fall prevention
Transportation
Bathing & dressing
Running errands
Client monitoring
Household organization
Light housekeeping
Lake Wylie End of Life Care
This service gives Lake Wylie residents the chance to live at home comfortably and happily during the end of life process. Our sensitive and compassionate caregivers will be able to take care of tedious, time-consuming tasks so your loved one and their family can enjoy the aspects of life that matter most. We pride ourselves on never neglecting any factors that can make this journey hard. At Visiting Angels, we offer a comforting presence to relieve the common feelings of loneliness, fear, and anxiety to all our Lake Wylie residents. We work alongside all hospice providers in the area to remain in their own home.
Fall Prevention in Lake Wylie
Falls are a major cause of seniors losing their independence. With age, the risk of a fall becomes a serious concern and looming danger with every step. A simple trip can cause severe physical and emotional damage. Arthritis, eyesight, medications, dehydration, and lack of grab bars can all be reasons behind a fall, which could have easily been prevented.
Falls don't just happen, our Lake Wylie senior home caregivers will be able to complete a fall prevention survey in your loved one's home and assist them with movement in and out of the house.
Serving York, Lancaster, Chester and Surrounding Counties
Visiting Angels
YORK COUNTY, SC
1615 Ebenezer Rd
Rock Hill, SC 29732
Phone: 803-610-4200
Fax: 803-610-4201
1040 Edgewater Pkwy
Indian Land SC 29707
Phone: 803-610-4200