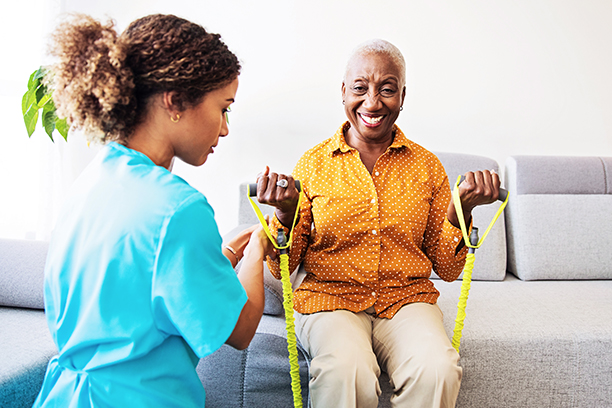 Client Reviews Abilene, TX
Thank you so much for the work you do in providing care for the homebound and elderly who desperately needed your services! I was blessed to get to meet you about 6 weeks or so ago and you provided us with a precious lady named Maria. She came and sat with Mom, providing company and meals for her while I had to work. I can't tell you how important that was to be able NOT to have to worry that she was being taken care of. My mom loved Maria and appreciated her being there so much! I will forever sing the praises of Visiting angels and the wonderful work you all do to help those who need you during some of the most vulnerable times in our lives!
-- Barbara Y., Abilene, TX
Your name is so appropriate and the care you give extends beyond the patient to the entire family. We give thanks for you.
-- Six family, Stamford, TX
Since we've been using Visiting Angels, mom's demeanor seems to have improved. She gets caregivers who click with her and they don't keep her closed off from the rest of the world. They enjoy their job and their clients.
-- Christian family, Abilene, TX
Visiting Angels has been welcoming and their caregiver is a hard working woman. My husband and I live several hours away, and it has been very nice to have someone we can trust with mom.
-- Shafer family, Trent, TX
You can really see a difference in my mother compared to the beginning of Visiting Angels services. She has a new light in her eyes. The caregivers make her happy. She is now talking more and laughing more.
-- Alline D, Abilene, TX
Visiting Angels is a dependable company. They will take care of your needs, and they are willing to do whatever is needed. I have been so impressed by Visiting Angels that when the VA cut some of my care, I decided to pay out of pocket.
-- James L., Abilene, TX
Visiting Angels is efficient, timely and good about matching caregivers to patients. They're thorough in their initial interview about need of the patient.
-- Waggoner family, Abilene, TX
It was forecasted three years ago that my mother only had six months with hospice. We believe that because of our Visiting Angels caregiver, she is doing much better and is still with us.
-- Harbour family, Abilene, TX
Visiting Angels services help our loved one stay in her home and live almost independently.
-- Cargile family, Abilene, TX
We appreciate that my husband receives so much help from Visiting Angels, even though he is bedridden. The caregivers help so much and we greatly appreciate it.
-- Harris family, Abilene, TX
Thank you for your support and especially sending Jan our way! Mom was well taken care of!
-- Denise S., Abilene, TX
You can't imagine how much TJ has meant to our mother these past years! She wasn't just a caregiver – she became mother's close friend and ours too! We love her and thank you so much.
-- Lambert family, Abilene, TX
To the angels heaven sent at the time of our need, thank you for your kindness to my mother and for your help to me.
-- Amy P., Abilene, TX
Thank you for the service your company provided during the past many months towards my mother's daily care. Much gratitude and God's rich blessings to you.
-- Peel family, Abilene, TX
My caregiver is compassionate and loving. She is everything I hoped she would be.
-- Linda M., Abilene, TX
We appreciate the care and concern your staff gave Phillip and me during his illness. I don't know what I would have done without you all.
-- Susan R., Abilene, TX
Wow – you guys were so wonderful! Even though we only used your service for a short while you brought me some peace of mind! Thank you so much for the service you provide!
-- Ruth H., Abilene, TX
We appreciate all the love and care given by the Visiting Angels Team.
-- Dixon family, Merkel, TX
Serving The Big Country in Texas
Visiting Angels
ABILENE, TX
4090 S Danville Dr #A
Abilene, TX 79605
Phone: 325-437-9500
Fax: 325-437-9501