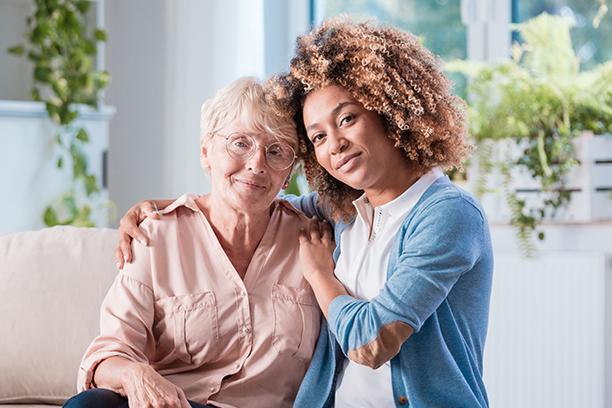 About Visiting Angels
Our Values
Integrity. Service. Teamwork. These are the cornerstone values of Visiting Angels. Karen and Tony Rivero found the company when they were looking for care for Karen's parents, and decided that this is what they wanted to do together. They have found that providing this service has been very rewarding.
Visiting Angels (Acton, MA) Mission Statement
"Visiting Angels' is dedicated to providing high quality home care to clients while building relationships with their families and providing them peace of mind."
Visiting Angels Goals
Visiting Angels' goals are to improve the quality of a client's life by meeting their unique needs, promoting health and wellness, and maintaining their independence at home and in the community.
Visiting Angels Vision
Implement programs/services that support adults and seniors thus letting them continue to live independently in the community.
Our Background
Tony and Karen Rivero Karen Rivero, RN, is originally from Maine. Tony Rivero, CSA, is from Belize. They also happen to be partners in life and business. They founded Visiting Angels when they were looking for care for Karen's parents. They were impressed with the company's philosophy so much that they decided to open their own franchise in Acton-Boxborough in 2007. They have found out that providing this type of service has enriched their lives. They have two adult children and have lived in several states throughout their lives including Texas, Maine, and currently in Massachusetts. They are both active in the Middlesex West Chamber of Commerce and with their church.
Amanda Harrington Amanda is the Marketing Director. A dynamic sales and marketing professional with more than 20 years of experience, Amanda is known for integrity, compassion and sense of humor. A proven relationship and network builder she strives to create long-term relationships built upon communication and trust. Through a consultative approach to each situation and keen sense of problem solving, she crafts a strategic solution that is aligned with her client's goals. "Clients need to know that you have their best interest at heart and care enough to be relentless in meeting their expectations". Amanda Scribner joined The Homesteader Publications in 2002 as an Account Executive, and was promoted to Sales Manager in 2003. A position she held for 14 years, developing and managing strong client relationships, revenue accountability, selecting, training and coaching sales professionals, and implementation of marketing campaigns and strategies. Prior to The Homesteader, Amanda worked for a diverse range of technology and software organizations. She has received numerous awards and recognition for her sales performance, including achievement of President's Club at the Minolta Corporation where she began her sales career.
Amanda has been extremely active in the Middlesex West Chamber of Commerce since 2009 and has served on the board since 2011. She was awarded 2010 Chamber Member of The Year, became Vice President in 2015, then became President in 2016. Amanda is currently serving on the Board of Directors, the Executive Committee as Past President, Marketing, and Nominating committees. Dedication to her community is very important to her. In her free- time you can find Amanda spending time with her adored grandsons Jack and Leo, family, her pets and friends. She enjoys live music, sports (an avid New England Patriots fan), traveling and the beach. Amanda is passionate about "giving back" and supports charities such as The American Cancer Society, Leukemia Foundation, Toys for Tots, Wounded Warriors and the MSPCA.
Dolores Guercio Dolores has worked nearly 40 years in the service industry. After graduation from Mount Wachusett Community College with a degree in Business Administration, she went to work as an assistant office manager at the Bull Run Restaurant in Shirley, MA. There she met her future husband Chip Guercio. Together they ran the restaurant, Dolores managing the office and Chip managing the kitchen as executive chef. Her duties included payroll, accounts receivable, accounts payable, marketing,scheduling staff of 40+ employees, and customer relations. Dolores and her husband have raised four children and enjoy their seven grandchildren in their spare time. Dolores joined the team at Visiting Angels in the fall of 2013 and currently is Scheduler/ Admistrative Assistant under the owners Tony & Karen Rivero.
Mary Ellen Kilbreth Mary Ellen has worked in several areas of community service. She was a Branch Manager/Assistant Treasurer working for North Brookfield Savings Bank for 13 years. She left the workforce to raise her 4 beautiful children. She did volunteer work for the Red Cross after hurricane Katrina in 2005 and became a permanent employee in Jan 2006. She worked as the Program Administrative Coordinator for the Red Cross's Nurse Assistant/Home Heath Aide Training course maintaining the Leominster, Gardner, and Springfield location. For 14 years she helped to get students educated and tested to work in the health care field. She spends her time with her children and friends, cooking, loves the beach, and reading.
Zoila Comeau Zoila Comeau is our number crunching whiz kid. She works closely with Tony on invoicing and in her "spare" time she is responsible for scanning all of our documentation into the computer in the hopes that we will become a paperless office. Zoila is the proud Mother of a beautiful daughter.
Serving Lexington, Acton, Groton, Stow and the Surrounding MA Communities
Visiting Angels
ACTON, MA
498 Great Rd
Acton, MA 01720
Phone: 978-263-1212