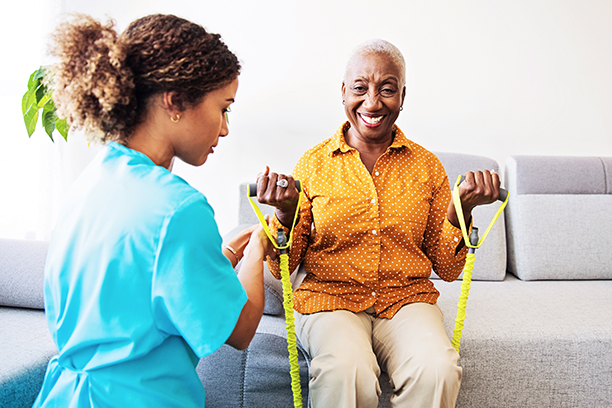 Aged Care: Alzheimer's FAQs for Families in West Atlanta, GA
Have you or someone you love been recently diagnosed with Alzheimer's? You may have questions racing through your mind. Visiting Angels of West Atlanta is here to ensure that your questions won't go unanswered. We have curated an informational Alzheimer's FAQ to answer some of the most common questions surrounding Alzheimer's, including your options for aged care.
"What is Alzheimer's disease?"
Alzheimer's disease is a degenerative, progressive brain disorder that often affects behavior, memory, and thinking. As it's progressive, it does get worse over time. Although one of the most common risk factors is advanced age, it isn't a normal part of aging. An average life expectancy of a senior with Alzheimer's 4 to 8 years after diagnosis. Although, many live for 15 to 20 years after their initial diagnosis.
"What are the symptoms of Alzheimer's?"
The symptoms of Alzheimer's vary from person-to-person. Some of the most common include confusing names and identities of people, short and long-term memory loss, irritability, depression, confusion about the time or place, and uncommon struggles with day-to-day activities.
"Does Alzheimer's have a cure?"
Sadly, Alzheimer's doesn't have a cure. But, there are treatments and medications available to delay its initial symptoms, prevent the disease, or slow its progression.
"What are my loved one's options for Alzheimer's care?"
When it comes to professional aged care, you have many options to choose from. One option is moving them to an assisted living facility. Depending on the individual, the drastic change to an unfamiliar place can be quite traumatic. Another option is hiring a home care agency, like Visiting Angels of West Atlanta. In home care keeps your loved one in familiar surroundings while ensuring that they are getting top-quality care.
The first step in managing Alzheimer's is educating yourself. To get more information about our Alzheimer's care, or the other aged care services we offer, call Visiting Angels of West Atlanta at 404-341-7049.
Serving Metropolitan Atlanta, GA and it's Surrounding Areas
Visiting Angels
ATLANTA-MIDTOWN
1100 Peachtree St NE #200
Atlanta, GA 30309
Phone: 404-341-7049
Fax: 404-873-8320