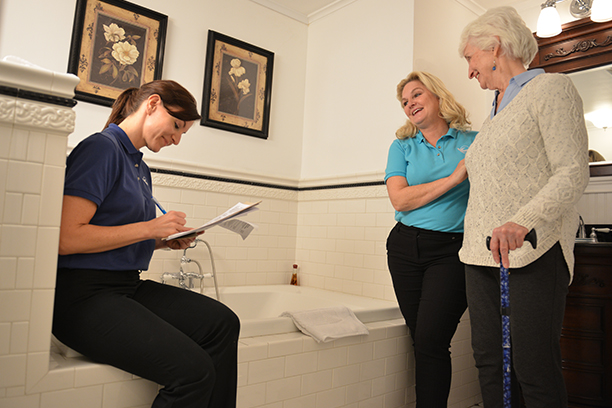 Alzheimers Care in Atlanta
Alzheimers Care in Atlanta Neighborhoods: Midtown, Westview, Greenbriar, Princeton Lakes, and Nearby West Atlanta Communities
The Alzheimer's Association reports that over 5 million people across America have Alzheimer's. If you believe someone you love may have Alzheimer's, remember that you are not alone. There are many people across the nation going through the same things that you are. The sooner there is a diagnosis; the sooner that home care can begin. Below are ten warning signs of Alzheimer's to watch out for:
Remember these 10 Warning Signs of Alzheimer's:
Challenges in planning or solving problems

Memory loss that disrupts daily life

Difficulty making decisions

Confusion about time or place

Difficulty completing tasks at home or work

Trouble understanding visual images or spatial relationships

Withdrawal from work or social activities

Changes in mood or personality

New problems with words in speaking or writing

Misplacing things and losing the ability to retrace steps
One of the most common risk factors of Alzheimer's is advanced age. But, remember that Alzheimer's isn't a part of the normal aging process. For example, an unaffected person may experience some of the signs above in varying degrees. If someone has Alzheimer's, the side effects will become more significant as time goes on:
Has someone you love been diagnosed with Alzheimer's? Take these initial steps for Alzheimers care in Atlanta:
Educate yourself about Alzheimer's. Credible sources include the

Alzheimer's Association

, the

National Institute on Aging

, and the

Centers for Disease Control and Prevention

.

Plan out who will be responsible for their care as well as financial and legal obligations.

Prioritize cognitive stimulation.

Arrange respite and/or regular in home care for them.

Build a support system around you. Local hospitals and departments of aging may offer free support groups. Online, check out resources such as the

Caregiver Action Network

and

Caring.com

to find support.
To learn more about Alzheimers care in Atlanta and explore our senior care services, call Visiting Angels of West Atlanta today at 404-341-7049.
Serving Metropolitan Atlanta, GA and it's Surrounding Areas
Visiting Angels
ATLANTA-MIDTOWN
1100 Peachtree St NE #200
Atlanta, GA 30309
Phone: 404-341-7049
Fax: 404-873-8320