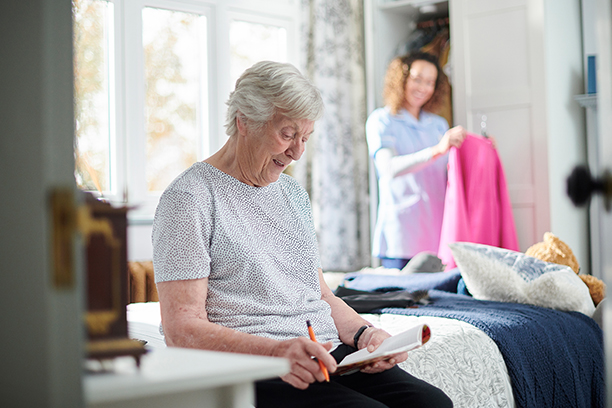 Our Character
In-Home Care with Integrity from Visiting Angels Austin
For many care recipients, their Visiting Angels Austin caregiver becomes far more than just a care provider. They become companions and confidantes, helping hands and trusted advisors, and – through their constant support and kind presence – often develop close ties to the care recipient and their family. When you're hiring someone to provide in-home care for a loved one, it's important that your choice be someone you can trust in every way. That's why Visiting Angels Austin makes quality of character one of our priorities when connecting you with in-home care for a parent or relative.
In building our team of in-home caregivers, Visiting Angels Austin prizes experience and reputation. We expect qualified applicants to embody our agency's ideals and commitment to service. We search for people with at least two years' experience and a reputation for delivering in-home care with sympathy, compassion, and integrity. Our multi-stage interview process also includes a full background and criminal history check for each candidate. The results speak for themselves. We are proud to have built a team of in-home care professionals who treat our care recipients with the same level of devotion and kindness they would afford to their own family.
But the ultimate test of our agency's character lies in your family's and loved one's confidence. At Visiting Angels Austin, we understand that trust is something that needs to be earned, and we make every effort to give our clients peace of mind. We do this through extensive pre-care interviews and planning, giving you the chance to assess your in-home care professional's experience, expertise, and quality of character. We follow through by providing our clients with 24/7, year-round support and availability. We are always here to discuss any concerns you have about your loved one's in-home care or care provider, and any messages left afterhours are responded to in 15 minutes or less.
To learn more about the services we bring to our clients in the Austin area, call our office today. We would be happy to provide you with more information about our in-home care or connect you and your loved one with a qualified care provider.
Serving Austin, TX and the Surrounding Communities
Visiting Angels
AUSTIN, TX
9811 Anderson Mill Rd #175
Austin, TX 78750
Phone: 512-250-2103
Fax: 512-250-2126