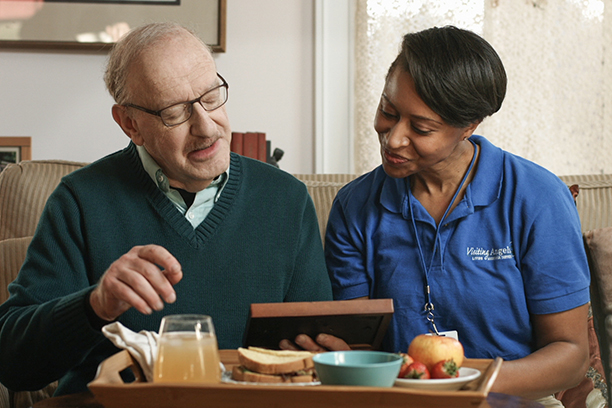 Our Experience
Expert, Experienced Elder Care from Visiting Angels Austin
As one of Texas's leading in-home and elder care agencies, Visiting Angels Austin demands experience from our team of care providers. We understand the weight of trust and responsibility our clients place in our hands on a day-to-day basis. Nothing is more valuable than family, and when you put a member of your family's care into the charge of a home care provider, you should be able to rest assured that your loved one's caregiver is expertly qualified and able to provide the level care you expect.
In order to live up to our clients' expectations – and also our own exacting standards – Visiting Angels Austin makes work experience and work history a priority when we hire care providers. We expect candidates to show they have at least two years' direct experience in elder or in-home care before they apply to Visiting Angels Austin. Qualified applicants are then put through a stringent and rigorous interview process. Our interview procedures involve multiple stages, and are designed to vet the extent of applicants' experience, their level of expertise, and how they respond to different elder care challenges. Our interview process also assesses each candidate's character and involves a detailed background and criminal check.
We believe that our care recipients and their families should have complete confidence in their elder care providers. At Visiting Angels Austin, we provide extensive pre-care interviews between providers and clients. These interviews give your caregiver the chance to gain a complete and comprehensive understanding of your family's and loved one's needs, and give you the chance to assess the expertise and character of your care provider. We encourage you to ask each caregiver questions so you can find the one who is the best fit for your needs.
The caregiver you choose can help your loved one with a wide variety of elder care needs. We commonly provide help around the house in the form of house cleaning and preparing healthy meals. Our elder care providers can also help your loved one bathe and dress in the morning, provide medication reminders, and transportation to shopping or appointments.
For more information about our elder care services and our home care providers, give our Austin office a call today. We would be happy to provide you with more information or connect you with one of our elder care providers.
Serving Austin, TX and the Surrounding Communities
Visiting Angels
AUSTIN, TX
9811 Anderson Mill Rd #175
Austin, TX 78750
Phone: 512-250-2103
Fax: 512-250-2126