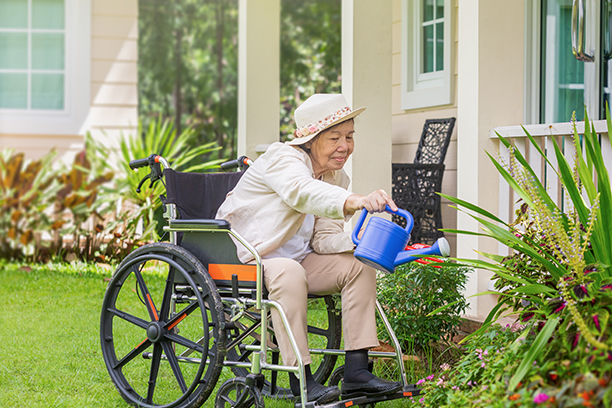 Senior Resources Central Oregon
Abilitree provides jobs, training, community service and independent living opportunities for people with disabilities. Individuals with a wide range of abilities come to our work center and receive training for various types of jobs. Abilitree then provides outsourced manufacturing, product assembly and product packaging either in our facility or yours here in Central Oregon.
A Senior Moment is committed to personally assisting you with finding the right community to meet your needs at no cost to you. We are 100% local and independent, and not affiliated with any single provider network. A Senior Moment understands that people have different needs and each family situation is unique. That's why our goal is to help families and their elderly loved ones maintain a healthy lifestyle and to ensure that there is clear communication with each of our clients. It allows us to provide the right care and best solutions for each individual.
The Council on Aging of Central Oregon seeks to meet immediate needs for seniors while encouraging a maximum amount of self-help and independence. Our mission is to promote dignity, well-being, security, and independence for Central Oregon seniors and disabled adults.
Heart 'n Home Hospice & Palliative Care, LLC
Heart 'n Home Hospice & Palliative Care affirms life by providing emotional, physical, and spiritual support to our patients and to those who love and care for them. Our Central Oregon offices provide hospice services to patients and families throughout Deschutes and Klamath Counties. Our staff are true hometown advocates. They love their relaxed community and the big hearts of the people who live in it. Call Heart 'n Home 24/7 for a free, in-home visit and we will get you the help you need to stay comfortable and in your home.
At Hospice of Redmond, our care is designed to focus on quality of life for the terminally ill patient. Our goal is to enable patients to be as comfortable and as free of symptoms and pain as possible, so that they live each day as fully as possible. We believe in treating the patient holistically, honoring their life and their wishes. We also offer Transitions care, which is a non-medical program that supports you or your loved one through the mental, physical, and emotional changes that may accompany a life-limiting illness.
We cover all of Central Oregon and come directly to your loved one's home. Ask for Hospice of Redmond Today!
Partners In Care is Central Oregon's only independent, non-hospital based, not-for-profit home health and hospice organization. Our mission is to provide patient-centered care that honors the dignity and needs of those we serve, sustaining an organization that enriches the lives of our patients, families, team, and community. We've been certified by Medicare to offer home health services since 1986 and hospice services since 1979. Partners In Care offers a comprehensive roster of additional services including transitions, palliative care, bereavement support for adults and children, and community education. Our Hospice House is the only 24/7 in-patient hospice care facility east of the Cascades, and one of only five in Oregon. Centered in Bend with branch offices in Redmond and La Pine, our broad service region reaches from Madras to Chemult, Sisters to Prineville, and everywhere in-between.
Today, health care that once required hospital admission can often be delivered safely at home. For more than 20 years, St. Charles has provided compassionate home health care, bringing experience and a sense of reassurance to every patient in every home. Whether you're recovering from a hospital stay or receiving ongoing treatment, we will handle all the details. Our mission is to help you recover and function as comfortably and independently as possible in your own home.
Our dedicated team of professionals and volunteers provides compassionate care to terminally ill patients and their families throughout Central Oregon. As part of St. Charles, we can easily access medical records and prescriptions, and communicate with other St. Charles providers or services our patients may have used. In addition, our patients have access to pharmacy and medical supplies, which can be mailed right to their home.
Government Resources for Seniors
*The list above does not represent any endorsement of any facility or service. Visiting Angels in Bend, Oregon is providing this list as a public service to the community. Homecare is a very serious issue and thorough research should be conducted when considering any facility or service.
Providing senior home care in Bend, Redmond, Sisters, Prineville, LaPine, Black Butte Ranch, Warm Springs, Gilchrist, Powell Butte, Terrebonne and Camp Sherman, OR.
Serving Bend, Redmond, Sisters, Prineville, La Pine, OR and all Central Oregon
Visiting Angels
BEND, OREGON
376 SW Bluff Dr #9
Bend, OR 97702
Phone: 541-617-3868
Fax: 541-330-5645