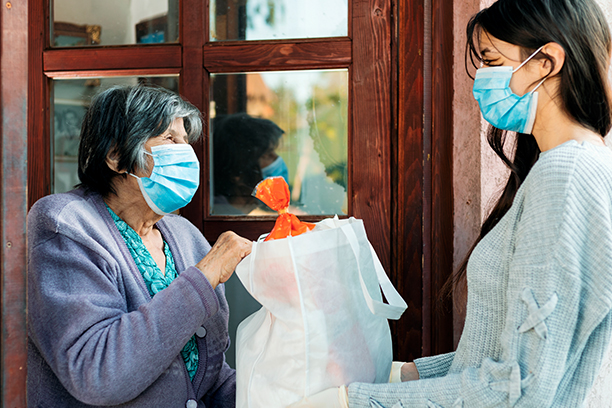 Frequently Asked Questions About Alzheimer's and In-Home Supportive Services for Seniors with Alzheimer's in Carlisle, PA and Surrounding Areas
Learn more about Alzheimer's disease, including the benefits of in-home supportive services for seniors in Carlisle, Gettysburg, Chambersburg and surrounding areas in Pennsylvania
If your loved one has recently been diagnosed with Alzheimer's, you surely have many questions. Your family might want to start planning future care steps as thoroughly as possible. At Visiting Angels Carlisle, compiled this guide in order to provide some of the answers you need.
What is the difference between dementia and Alzheimer's disease?
Dementia is a wider, umbrella term used to describe an array of brain disorders characterized by memory loss, whereas Alzheimer's is the most common type of dementia. Alzheimer's disease is a degenerative brain disorder causing memory loss, cognitive decline and behavioral changes.
What are the risk factors for the onset of Alzheimer's?
There are many risk factors related to the development of Alzheimer's later in life. However, three main factors include advanced age, genetics and poor cardiovascular health. Other factors that can substantially increase the risk of Alzheimer's include sleep disorders, being under constant stress, heavy consumption of alcohol and tobacco, history of head trauma and more.
What are the symptoms of Alzheimer's?
Alzheimer's can show its onset in a number of different ways. Most symptoms, especially the early ones, affect a person's speech and behavioral patterns.
Typically, the most prominent symptoms of this cognitive condition include:
Short-term and long-term memory loss
Issues with problem-solving skills
Uncommon problems with simple, daily routines performed hundreds of times before
Frequently mixing or forgetting words
Regularly displacing or losing personal or household items
Confusion
Forgetting or mixing up names and identities
Anxiety, agitation, or depression
How does Alzheimer's disease progress?
As Alzheimer's is a progressive condition, the symptoms increase its severity gradually, over a number of years, becoming worse and worse with time. In the beginning, the symptoms are usually mild and have very little impact on the person's well-being and quality of life. But as the cognitive decline progresses, a person may lose all short-term and long-term memory.
Someone with late-stage Alzheimer's may lose the ability to speak and understand speech and the ability to perform even the most basic tasks such as eating by him/herself or going to the bathroom. Because of this, those with mid and late-stage Alzheimer's require either facilitated care or in-home supportive services.
Does Alzheimer's disease have a cure?
Sadly, there is no cure for any form of dementia at this moment. Current treatments are limited and focused solely on minimizing the severity of the symptoms, maintaining quality of life, and slowing down the pace of cognitive decline.
What are my loved one's options for Alzheimer's care?
During the early to mid-stages, families normally provide care for a loved one diagnosed with Alzheimer's. On the other hand, patients in the later stages require high levels of professional care often provided by in-home supportive services or nursing facilities.
If you're looking into local Alzheimer's care options for your loved one, choose in-home care from Visiting Angels Carlisle. Our dedicated caregivers are trained to provide personalized, one-on-one care for seniors with Alzheimer's and other forms of dementia. In addition to assisting with everyday tasks, we can also help your loved one manage their symptoms so they can continue to live at home. That way, your loved one can avoid the stress of having to relocate to unfamiliar surroundings.
Call our office in Carlisle or our drop sites in Gettysburg and Chambersburg today to learn more about how our personalized in-home supportive services can help if your parent is diagnosed with Alzheimer's.
Serving Carlisle, Gettysburg, Chambersburg and Surrounding Areas in Cumberland, Franklin and Adams Counties in PA
Visiting Angels Carlisle, PA
325 S Hanover St #2A
Carlisle, PA 17013
Phone: 717-356-9871