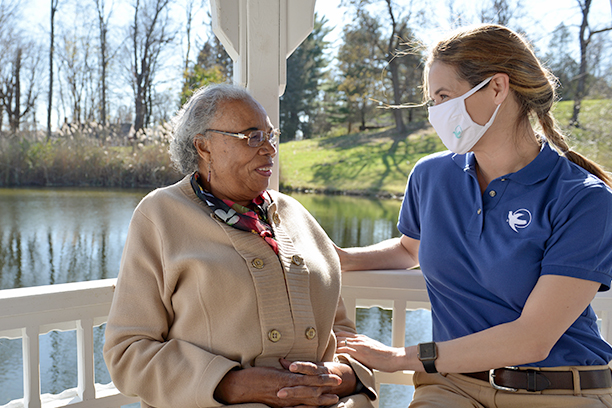 Frequently Asked Questions About Our In-Home Care Services Available in Carlisle, PA and Surrounding Areas
Thinking about choosing Visiting Angels to be your partner in senior care? Here's some information about the in-home care services we offer in Carlisle, Gettysburg, Chambersburg and surrounding Pennsylvania communities
Q: What kind of services do you provide in Carlisle, Gettysburg, Chambersburg and surrounding communities?
Visiting Angels Carlisle provides an array of assistive in-home care services designed to address the specific needs of each client, enabling those placed in our care to remain living safely and comfortably at home with dignity. Our care plans usually include a combination of companion care and personal care services such as light housekeeping, meal preparation, medication and fluids reminders, grooming or bathing assistance, running errands, fall prevention and more.
Q: What does "aging in place" mean?
The term "aging in place" is frequently used in the caregiving industry to describe the ability of any person to continue aging in their own home or in the home of a family member. Although aging in place is the opposite of residential care such as nursing homes and assisted living facilities, it can also refer to the ability to receive additional care in such facilities.
Q: Can you provide care in assisted living facilities?
Yes, we can. Sometimes families discover that the assistance provided in residential senior care facilities is not adequate or sufficient for their senior loved ones to remain independent. When this is the case, we can step in and provide additional assistance in those states or areas where it is allowed to supplement facilitated care.
Q: How quickly can your in-home care services be provided/started?
Generally speaking, our policy is to set up a care plan and start providing care within a 48-hour period. Nonetheless, in most cases, we often manage to speed up things a bit and get our clients started the very same day.
Q: Can I change the schedule if I have appointments to keep?
We can manage any changes in your schedule with as little as one week's notice. The philosophy behind our approach to senior care is that the schedule is there only to serve the best interests of the client, not to be convenient for the agency. At Visiting Angels Carlisle, you come first – your needs, your requests, your schedule. We will do whatever it takes to ensure you always get the schedule you need.
Q: How do I get started with Visiting Angels Carlisle?
Contact our office in Carlisle or our drop sites in Chambersburg and Gettysburg. We will schedule a free in-home assessment and visit your loved one's home to discuss their needs and develop a suitable care plan based on your instructions. Once we agree on the schedule of visits and particular in-home care services you wish to receive, we will recommend a qualified caregiver whose skills and personality make them an ideal match for Mom or Dad. When you approve the choice, the caregiver begins working for you.
Have more questions for our team? Contact Visiting Angels Carlisle to learn more!
Serving Carlisle, Gettysburg, Chambersburg and Surrounding Areas in Cumberland, Franklin and Adams Counties in PA
Visiting Angels CARLISLE, PA
325 S Hanover St #2A
Carlisle, PA 17013
Phone: 717-356-9871