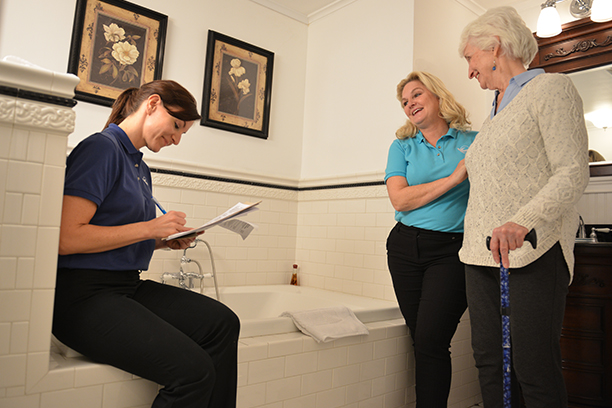 Safe and Steady Fall Prevention Program for Seniors in Carlisle, Gettysburg and Chambersburg, PA
Falls can significantly affect your loved one's quality of life. Learn how in-home senior care services from Visiting Angels help older adults in Carlisle, Chambersburg, Gettysburg and surrounding Pennsylvania communities stay safe.
Many seniors these days are choosing to spend their golden years at home. If your parent shares the same goal, you might be worried about their safety, especially when you are not around to keep an eye on them. After all seniors are prone to falls that can lead to serious physical injuries. At Visiting Angels Carlisle, we offer a fall prevention program designed to ensure the safety and well-being of your loved one. As a part of our senior care services, our caregivers can identify and address risk factors on time and prevent accidents from occurring.
A fall can significantly change the quality of your loved one's life, and impact them socially, as well as emotionally. Seniors who have experienced a fall tend to avoid leaving the house, attending events and social gatherings, therefore missing important things in life. The fear of falling again can cause a type of behavior that can easily lead to feelings of loneliness, anxiety, depression and sadness.
Every year a significant number of seniors end up with a broken hip, fracture, concussion and other injuries caused by a fall. Unfortunately, older adults who have fallen once are more likely to fall again. More than 800,000 people end up in a hospital every year because of a fall, and recovery can take up to a year. With our senior care services, your loved one can remain safely at home throughout their golden years.
Falls Don't Just Happen!
Falls are often caused by risk factors, and by identifying them on time many accidents can easily be prevented. A risk factor can be related to one's physical condition, a medical issue or the home environment. For example, seniors who are taking several medications throughout the day and those who have poor eyesight are more prone to falling.
In addition, a lack of grab bars, loose rugs and poorly lit rooms can also be risk factors. Our caregivers can assess your loved one's home and recommend changes needed to increase your parent's safety.
How Can Professional Senior Care Services Help Elderly Adults Avoid Falls?
At Visiting Angels Carlisle, we are committed to investing in educating seniors, their families and our caregivers throughout Cumberland, Franklin and Adams Counties about ways to reduce falls. By preventing these accidents, we are able to increase your loved one's quality of life and ensure their independence. Our fall prevention program includes a variety of in-home care services that focus on reducing the chances of falling.
Some of the ways we help seniors stay safe include:
Providing mobility assistance so seniors can safely navigate their home
Assisting with light housekeeping in order to remove clutter and keep walkways clear
Preparing delicious, balanced meals so seniors can get the nutrients needed to keep their strength up throughout the day
Providing medication reminders and quickly responding if seniors experience any side effects that could negatively impact their safety
And more
To learn how our senior care services can help your loved one avoid falls, contact our Carlisle office or our drop sites in Gettysburg and Chambersburg today.
Serving Carlisle, Gettysburg, Chambersburg and Surrounding Areas in Cumberland, Franklin and Adams Counties in PA
Visiting Angels CARLISLE, PA
325 S Hanover St #2A
Carlisle, PA 17013
Phone: 717-356-9871
Download Your Free Safe & Steady Fall Prevention Resource Guide today.