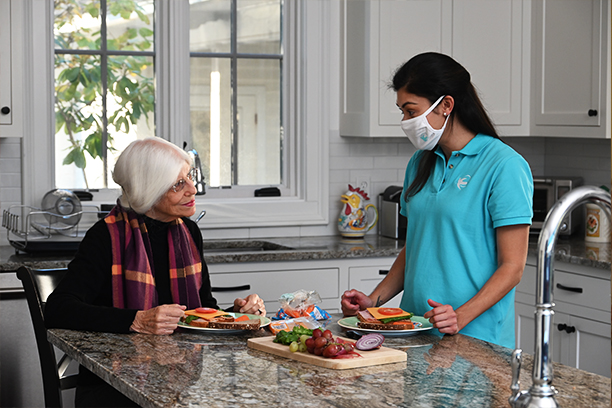 Comforting In-Home Palliative Care Services for Seniors in Carlisle, Gettysburg, Chambersburg and Surrounding PA Communities
Our Certified Palliative Care Program is designed to tend to physical, emotional, social as well as spiritual needs of our clients in Carlisle, Gettysburg. Chambersburg and surrounding areas in Pennsylvania. Unlike hospice care, palliative services are about providing care and support regardless of one's life expectancy.
Contrary to popular belief, palliative and hospice care are two different services, even though they share a lot of similarities. They are both designed to relieve pain and discomfort, but hospice care is reserved for seniors who are nearing the end of life.
At Visiting Angels Carlisle, our palliative home care services are a significant part of our Life Care Navigation collection of senior care services. This collection also includes end of life care, which can provide your loved one with assistance and comfort they need during the end of life process.
How Can Palliative Care Help Seniors in Carlisle, Gettysburg, Chambersburg and Surrounding Communities?
Palliative care enhances the quality of life of seniors who are struggling with serious long-term illnesses and health conditions. Our services are delivered at home and they bring a sense of peace and well-being, regardless of life expectancy. If your loved one needs physical, emotional, spiritual and social care in their home, consider Visiting Angels Carlisle.
Caregivers who receive our Palliative Care Certification know how to approach care with a holistic mindset and possess the skills to provide supportive, soothing and comforting care.
Palliative in-home care focuses on your loved one's physical, emotional, social and spiritual needs by addressing:
Physical care needs of clients by recognizing the signs of age-related issues and providing essential personal home care
Emotional needs of our clients by offering compassion and support to seniors who may be suffering from loneliness, stress or depression
Social needs of seniors by building relationships with clients and providing them with companionship and conversation
Spiritual needs of clients by restoring hope, helping them find comfort and relief from health issues they are struggling with treating them with dignity and respect
Getting Started with Palliative In-Home Care from Visiting Angels Carlisle
If you think your loved one could benefit from our palliative home care options, please contact Visiting Angels Carlisle. Our friendly staff members will answer any questions you may have about our program and schedule a meeting with one of our care directors. At Visiting Angels Carlisle, we offer customized care plans, the ability to Select Your Caregiver and a client-centered approach to in-home senior care.
Contact our Carlisle office or our drop sites in Gettysburg and Chambersburg today and learn more about professional home care for seniors from Visiting Angels.
Serving Carlisle, Gettysburg, Chambersburg and Surrounding Areas in Cumberland, Franklin and Adams Counties in PA
Visiting Angels Carlisle, PA
325 S Hanover St #2A
Carlisle, PA 17013
Phone: 717-356-9871