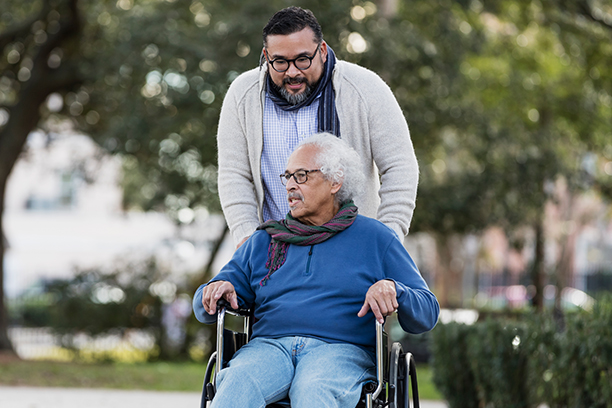 Personalized Long-Term Care Options for Seniors in Carlisle, Gettysburg and Chambersburg, PA
Learn how long-term care from Visiting Angels benefits seniors who have advanced care needs in Carlisle, Gettysburg, Chambersburg and surrounding communities in Cumberland, Franklin and Adams Counties in PA
Over time, elderly adults can develop age-related difficulties or chronic medical conditions such as Alzheimer's or Parkinson's disease that make daily living challenging. Even simple tasks such as getting dressed, washing dishes or going from room to room can be difficult. However, if your loved one values their independence, an assisted living facility may not be the best option.
Luckily, Visiting Angels Carlisle offers long-term care for seniors in Adams, Franklin and Cumberland Counties. We provide the support they need to remain in the comfort of their own home.
What Does Long-Term Care Include?
Our caregivers can help your loved one with the personal in-home care they need to make living at home easier. Our care plans include the specific services our clients need to stay safe, healthy and comfortable in their own home.
Visiting Angels Carlisle can help with:
Helping Seniors Enjoy Their Golden Years
One of the great benefits of our home care services is that it allows the caregiver and client to develop a genuine relationship. Our caregivers enjoy chatting with their clients and reliving favorite memories. Caregivers can also join their clients in playing cards or board games, doing puzzles and strolling around the neighborhood. With Visiting Angels Carlisle, your loved one will receive the help they need to remain safely at home, while enjoying the benefits of conversation and good company.
Personalized Senior Care that Fits Your Schedule
Professional long-term care from Visiting Angels Carlisle is a perfect fit for a variety of lifestyles. We can personalize our care to suit chronic health issues such as asthma, diabetes, arthritis, osteoporosis or congestive heart failure. We offer flexible scheduling options to fit your routine with hourly, overnight or 24-hour home care.
Affordable Care for Tight Budgets
We understand that budgets are limited. The cost of in-home care varies depending upon the individual needs of each client. Visiting Angels Carlisle offers professional care at hourly rates that make it possible for you to schedule care as needed, according to your budget.
We accept long-term care insurance to help offset the cost of care. However, most healthcare insurance plans do not cover the cost of home care. If long-term care insurance is not affordable, you also have the option of paying for care services out of pocket. During your consultation, we'll create a personalized care plan and discuss the cost.
To learn more about our long-term care services, contact our Carlisle office or our drop sites in Gettysburg and Chambersburg to set up a free in-home consultation.
Serving Carlisle, Gettysburg, Chambersburg and Surrounding Areas in Cumberland, Franklin and Adams Counties in PA
Visiting Angels Carlisle, PA
325 S Hanover St #2A
Carlisle, PA 17013
Phone: 717-356-9871