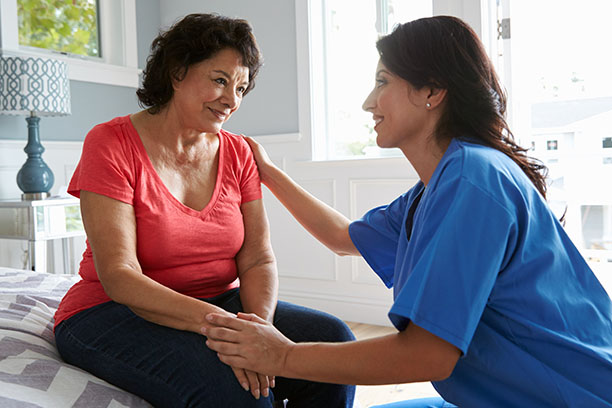 Dementia Care
At Visiting Angels of Coeur d'Alene Idaho, we truly understand the challenges that individuals with Alzheimer's and dementia. We are here to offer a caring and compassionate hand. Our caregivers receive the best comprehensive training that is specifically tailored to support those living with Alzheimer's and dementia. You can trust that your loved one will receive the utmost care and support from our dedicated staff.
Our goal is to create a warm and safe environment for your loved one within the comfort of their own home. We understand that a personalized care plan will cater to the unique needs of each individual, that will meet each stage of dementia. Our caregivers are trained and equipped with the knowledge and skills necessary to navigate the complexities of Alzheimer's and dementia.
Relationships between the caregiver and client is the most important part of our care plan. When matching a caregiver with your loved one, we take into account their specific requirements and preferences. Our caregivers not only possess the necessary training and skill level, but they also have genuine compassion, kindness, and a sincere desire to improve the lives of those living with Alzheimer's and dementia.
Our comprehensive dementia care services cover a wide range of conditions, including Alzheimer's disease, vascular dementia, frontotemporal dementia, Lewy body dementia, Creutzfeldt-Jakob disease, Huntington's disease, Parkinson's disease dementia, and more. We recognize that each form of dementia presents unique challenges, and our caregivers are trained to adapt their care to meet the individual needs of your loved one.
When you choose Visiting Angels, you can rest assured that your loved one will be cared for by caregivers who are not only highly skilled but also genuinely dedicated. We prioritize ongoing training and support for our caregivers to ensure that they remain up to date with the latest advancements in Alzheimer's and dementia care.
If you are ready to provide your loved one with the exceptional care they deserve, we invite you to reach out to us for a free consultation. During this consultation, we will take the time to fully understand your loved one's situation and develop a personalized care plan that addresses their specific needs. With Visiting Angels, your loved one will receive the best compassionate and high-quality care for those in Coeur d'Alene Idaho and the surrounding areas.
Serving Coeur d'Alene and Surrounding Areas
Visiting Angels
COEUR D'ALENE, ID
1250 W. Ironwood Dr. #112
Coeur d'Alene, ID 83814
Phone: 208-415-1000