The 411 on Hydration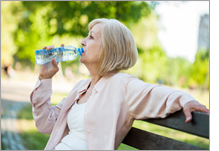 The dog days of summer days are here. As we all know, they can be hard to tolerate. We hear it all the time: it's important to stay hydrated, especially when you're out and about.
But what does that really mean? Are we all really supposed to drink eight cups of water every day? Tea is made entirely of water. Does that count? Can coffee be hydrating? Read on to get your lowdown on hydration.
Dehydration basics
What exactly does it mean to be dehydrated? Does that mean being extremely thirsty? The definition is precise and important. The
Mayo Clinic
defines dehydration this way: "Dehydration occurs when you use or lose more fluid than you take in, and your body doesn't have enough water and other fluids to carry out its normal functions. If you don't replace lost fluids, you will get dehydrated."
The
Cleveland Clinic
reports that dehydration is a serious issue and a common reason that seniors are hospitalized. The Cleveland Clinic notes that the sensation of thirst diminishes as we age. This is alarming, because that sensation is the body's way of alerting us that our fluids need to be replenished right away. Because seniors' sensation of thirst is muted, they are at a greater risk of becoming dehydrated.
The clinic notes that symptoms like dry mouth, dizziness, fatigue, headache, dark colored urine and muscle cramp can be caused by dehydration, while "Persistent dehydration that causes difficulty walking, confusion, rapid heart rate or other more severe symptoms can land seniors in the hospital."
It's important to be mindful about our hydration levels, especially when we are going to be out in the heat and/or exercising, because these activities cause us to sweat drawing fluids from our bodies.
Hydration basics
The
Cleveland Clinic
explains the vital importance of being well-hydrated: "Good hydration supports normal energy levels, decreases risk of kidney stones, prevents constipation, and is associated with a reduction in urinary tract infections, high blood pressure, fatal heart disease and stroke."
Registered Dietician Alina Petre, writing for
Healthline
, explains that when it comes to tea: "Some teas contain caffeine, a compound with diuretic properties. This can cause you to urinate more frequently when drinking tea, potentially affecting your hydration." The key, as Petre explains, seems to be in the amount of caffeine consumed. When tea is caffeinated but consumed in moderation or it's decaffeinated, it can be hydrating. It seems that tea can be a part of our hydration routine, but we should not be relying solely on tea to keep us hydrated.
Coffee is much the same as tea. It has caffeine, and so should be taken with caution, but it's also composed largely of water; therefore, it can also hydrate. The key is not to consume too much and to work it into a hydration routine that incorporates a variety of hydrating drinks and foods.
Hydration routine
Having a hydration routine means being mindful about your fluid intake. We've all heard the "eight glasses a day" rule, but the reality of what your body needs is more nuanced. Your needs depend on
various factors
like your body size, diet and daily routine.
It is important to be mindful of the fluids you consume. But keep in mind that you can get hydrated in all kinds of delicious ways. Incorporate hydrating veggies and fruits like cantaloupe, lettuce, spinach, cauliflower, oranges, watermelon, celery, carrots, cucumbers, peaches and bell peppers. Milk, broth, applesauce, popsicles, yogurt and Jello are also hydrating. Mix up your routine with an array of hydrating foods.
You may also opt to enhance the water you drink, and make it more appetizing by adding mint, basil or slices of citrus fruit or cucumbers.
There are plenty of ways to stay hydrated. Just pay extra attention during the dog days of summer, so that your body has the reserves it needs when the heat is on.