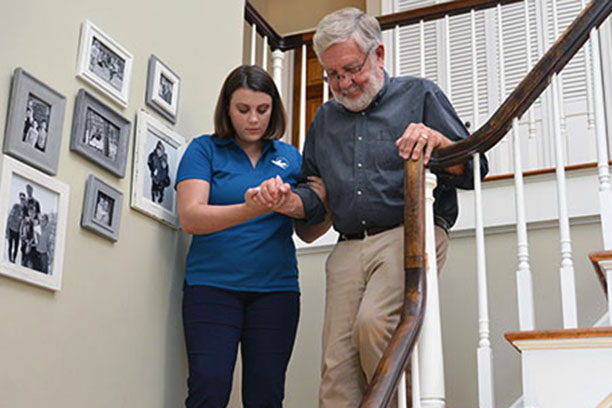 VA Elderly Caregiver Helps Prevent Falls in Chapel Hill, NC
An Elderly Caregiver Can Help Your Loved One in Chapel Hill, Durham, and Nearby Cities Prevent Falls
The Centers for Disease Control and Prevention reports that one out of five falls causes a serious injury such as broken bones or a head injury. 800,000 seniors across America are hospitalized because of a fall injury. Visiting Angels of Chapel Hill, NC is helping seniors in Chapel Hill, Durham, Hillsborough, and nearby communities beat the odds through their Fall Prevention Program. Our elderly caregivers are equipped to help seniors, their families, and their healthcare providers stay informed about fall prevention.
What are the risk factors for falling?
Falling risk factors are typically either environmental or medical. Risk factors from each category could have a drastic impact on the chance that a senior could fall.
An example of an environmental risk factor could be hazards at home such as a lack of grab bars or small rugs that could be tripped over.
On the other hand, medical risk factors could be medications that the senior is taking, vision problems, balance problems, or a vitamin D deficiency. The more risk factors a senior has, the higher chance that the senior has of falling.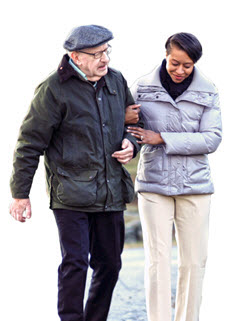 How do falls affect physical health?
Falls can negatively affect a senior's physical health for life. They range from minor aches and pains to a broken hip or a concussion. After a senior falls, they could need to be taken to a long-term recovery center for up to a year. This can completely pause a senior's life and cause them to miss many important life events for friends and family. Other seniors may never go home again. The fear alone can cause seniors to isolate themselves to "protect" themselves.
How do falls affect mental health?
If a senior chooses to isolate themselves, they could miss events such as birthdays, graduations, and holidays. They aren't a part of once-in-a-lifetime memories. These behaviors can become habits over time. Feelings of loneliness and sadness can grow from them. But, as time goes by, these feelings can develop into serious mental issues such as depression and anxiety.
The team of Visiting Angels of Chapel Hill, NC, from our owners to our elderly caregivers, is committed to teaching the Chapel Hill community about fall prevention. Through the teachings of our elderly caregivers, our Chapel Hill clients are empowered to live fulfilling lives.
Free Consultation
For more information on Fall Prevention and other senior care services offered by Visiting Angels of Chapel Hill, NC call 919-321-2136.
Download Your Free Safe & Steady Fall Prevention Resource Guide today.
Serving Orange, Durham, Chatham and Alamance Counties
Visiting Angels
CHAPEL HILL, NC
104 Jones Ferry Rd #A
Carrboro, NC 27510
Phone: 919-321-2136