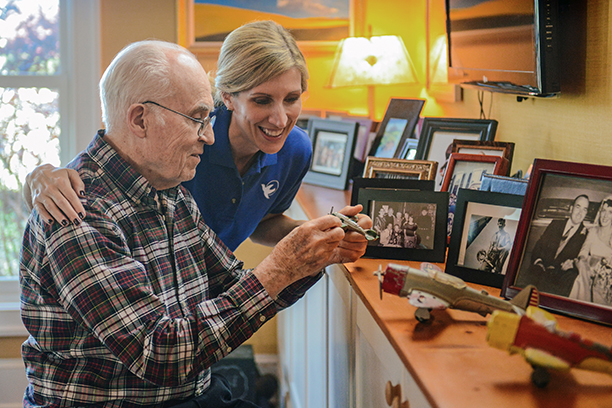 FAQs About Alzheimer's Home Care in Chapel Hill, NC
More than five million Americans are living with Alzheimer's disease. If you or someone you love has recently been diagnosed with the disease, there may be questions or concerns that you are struggling to find answers to. At Visiting Angels of Chapel Hill, NC, we are here to provide answers to some of the most common questions about Alzheimer's disease and Alzheimer's home care.
What is Alzheimer's Disease?
Plainly stated, Alzheimer's disease is a progressive, degenerative brain disorder that is characterized by memory loss, cognitive decline, and behavioral changes. As a progressive disease, its symptoms typically get worse over time. It is usually considered a terminal condition, with an average life expectancy of 4 to 8 years after the diagnosis. But, depending on a variety of factors, some people with Alzheimer's live anywhere from 15 to 20 years after the diagnosis.
What are the risk factors for Alzheimer's?
Some of the most common risk factors include age, family history, and genetics. These are factors that we have no control over, but there are some risk factors that we can control. They include heart health and head injuries.
What are the symptoms of Alzheimer's?
The symptoms of Alzheimer's include short-term and long-term memory loss, difficulty problem-solving, struggles with common day-to-day activities, mixing up or forgetting words, easily losing items, confusion about the current time or place, confusion about names or identities of people, and acting more irritable than usual.
What are my loved one's options for Alzheimer's care?
One of your options is placing your loved one in an assisted living facility or nursing home. But these facilities are often avoided because they can be traumatic to deal with. Another option would be to bring in-home care, like the Alzheimer's care that is offered by Visiting Angels of Chapel Hill, NC. Visiting Angels creates personalized Alzheimer's home care plans for its clients with Alzheimer's and allows families to select their caregivers.
Learn more about our Alzheimer's home care today by calling Visiting Angels of Chapel Hill, NC at 919-321-2136.
Serving Orange, Durham, Chatham and Alamance Counties
Visiting Angels
CHAPEL HILL, NC
104 Jones Ferry Rd #A
Carrboro, NC 27510
Phone: 919-321-2136