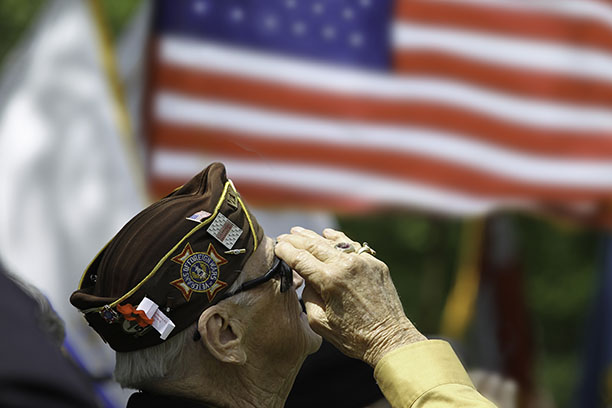 Personalized Home Care Services for Senior Veterans in Chapel Hill, NC
Paying for Private Home Care Services in Chapel Hill, NC, and Surrounding Areas Through the VA Aid & Attendance Program
The VA Aid & Attendance program can help elderly veterans in Chapel Hill, Durham, Hillsborough, Pittsboro, Carrboro, and surrounding communities in North Carolina pay for personalized in-home care services from Visiting Angels.
The VA Aid & Attendance program is designed to assist VA-eligible older veterans, their spouses, and dependent children. These seniors regularly receive VA benefits and may also be eligible for Social Security benefits.
The VA Aid & Attendance program can help older veterans, spouses, and dependent children pay for in-home care services to keep a more senior loved one at home with a service-connected disability. If eligible, the Veteran or their spouse may receive an increased monthly pension payment from the VA if they attend in-home help services more than 30 days per month.
Is My Loved One Eligible for Aid & Attendance (A&A)?
Your senior loved one may be eligible to receive Aid & Attendance (A&A) benefits if they meet the following conditions:
If they are bedridden or disabled
If they are a senior patient in a nursing home due to mental or physical incapacity
If they require in-home care services such as assistance with bathing, feeding, dressing, toileting, mobility, and other activities of daily living (ADL)
If they have a reasonably limited vision (5/200 visual acuity or less in both eyes)
In addition to the Aid & Attendance benefit, if your loved one is eligible, you may also be able to receive an increase in monthly pension.
How Can In-Home Care from Visiting Angels Chapel Hill Help My Loved One?
Our Chapel Hill team has the resources and the experience to help senior veterans and their families access VA benefits. We can guide qualifying veterans through applying for Aid and Attendance benefits. We can connect your loved ones with appropriate offices and assist with compiling and filing paperwork.
Visiting Angels Chapel Hill private home care services can provide your loved one with quality, professional, and personalized in-home care. We can help your loved ones remain home and in their surroundings, often filled with many treasured family and friend memories.
Visiting Angels Chapel Hil, NC, Can Provide In-Home Care for Your Senior Loved One
Reach out to our main office in Chapel Hill, NC, today to learn how we can help senior veterans in the area!
Serving Orange, Durham, Chatham and Alamance Counties
Visiting Angels
CHAPEL HILL, NC
104 Jones Ferry Rd #A
Carrboro, NC 27510
Phone: 919-321-2136