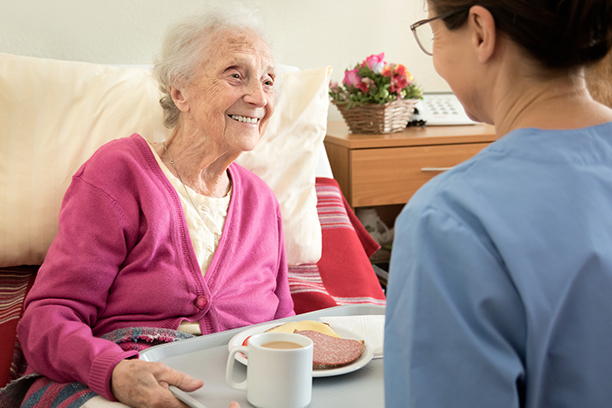 One of a Kind Alzheimer's Care for Charlottesville
Whether it's a parent, grandparent or other senior relative, having a loved one diagnosed with Alzheimer's or dementia places an enormous weight on a family. Providing care for them becomes the new top priority, but often other challenges like distance or work commitments make caring for your elderly loved one a complicated juggling act, particularly when they wish to stay in the familiarity of their own home where support and supervision may be less available. Visiting Angels is Charlottesville's trusted provider of at-home Alzheimer's care. We can help take the pressure off, so that the focus can stay on your relative's safety and comfort, without causing you or your family any additional stress.
Confidence Through Quality Alzheimer's Care
Not only does staying in their own home positively impact their comfort and happiness, it is also invaluable when it comes to their overall health and safety. Visiting Angels Charlottesville makes this decision even easier by offering trusted, at-home Alzheimer's care you can rely on, day and night, including:
Medication Reminders
Transportation to and from medical appointments
Companionship
Meal Preparation
Assistance with shopping and errands
Our plans are flexible, so whatever the needs of your family, Visiting Angels Charlottesville can develop an Alzheimer's care strategy that is just the right fit.
Compassionate to the Core
Alzheimer's can leave both the person afflicted, and their family, feeling overwhelmed and out of control. At Visiting Angels Charlottesville, we believe that by approaching Alzheimer's care with compassion, we can bring confidence and dignity back into every life we touch. That dedication to care is at the core of everything we do. Our Alzheimer's care professionals are carefully selected based not only on skill, but on their ability to bring those values with them on every visit and into to every household we assist.
Your Lifeline in Charlottesville
Finding reliable, trustworthy care for your loved one can be one of the biggest and earliest challenges of Alzheimer's and dementia. That's why Visiting Angels Charlottesville is committed to getting to know you and your family, so that the Alzheimer's care our angel companions provide is always exactly what you need, and ready when you need us most.
Don't struggle to do it all on your own. Reach out and call Visiting Angels Charlottesville today to learn more about how our Alzheimer's care professionals can help.
Serving the Charlottesville and Staunton, Virginia Areas Including Orange, Louisa, Fluvanna, Albemarle & Augusta Counties
Visiting Angels
CHARLOTTESVILLE, VA
195 Riverbend Dr #3
Charlottesville, VA 22911
Phone: 434-227-5917
Fax: 434-227-5923